Cardiff council's Rolls Royce is driven once a year - to its MOT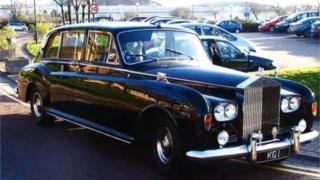 A Rolls Royce owned by Cardiff Council has been kept in storage for the last 16 years at a cost to the taxpayer, data has revealed.
The 1963 Rolls Royce Phantom was last used in an official capacity in 2002.
In the last three years the authority spent £590.85 running the vehicle, but it only left the underground car park at County Hall once a year for its MOT.
Campaigners want the "unique" car to be put in a museum but the council said its future will be decided this summer.
The car was last valued in February 2008 by the Rolls-Royce Enthusiasts Club at £70,000, while its number plate KG1 was said to be worth more, being valued at £100,000.
In a response to an FOI request published on the authority's website, the council said: "In the last three years we have spent £590.85 on running the vehicle, which equates to 196.67 per year as it is taken out of County Hall once a year for MOT.
"It is no longer used for fleet or council activities."
A Facebook group called Cardiff's Rolls Royce KG1 has been campaigning for the car to be put in a museum.
"It is a unique vehicle with an incredible history," a statement on the group reads.
"Tragically the car has spent the last decade sitting under tarpaulin in the underground car park of county hall."
Cardiff council said the car and number plate has been stored "safely".
"A report is due to go to cabinet this summer which will contain recommendations on their future," said a spokesman.