Royal pythons found dead in pillowcase in Rhondda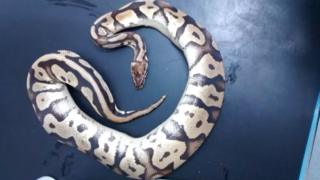 Two snakes have been found dead in a pillowcase on top of a mountain.
The royal pythons were spotted by a member of the public who was Geocaching - an outdoor treasure hunting game using GPS devices - on Rhigos Mountain in the Rhondda.
The snakes were coiled around each other in a tied-up pillowcase - one with bruising and a possible fracture, and the other without obvious injuries.
The RSPCA is now appealing for anyone with information to come forward.
The RSPCA said the snakes were found near Hendre Mynydd car park on Saturday.
"We don't know what happened here or where these snakes came from," said inspector Annie Simmonds.
"It must have been such a shock to find the snakes in the bag by the caller who came across them while Geocaching at the time."
Royal pythons are mostly bred in captivity in Wales, according to the RSPCA, and are non-venomous.