Caerphilly dog sex man banned from keeping animals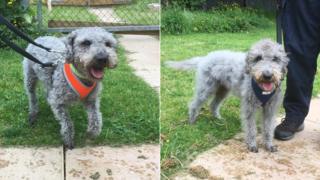 A man who was caught having sex with his own dogs has been banned from keeping animals, the RSPCA has said.
Robert Gwynn, 60, from Caerphilly county, was seen abusing Bedlington terriers Taff and Ben, and taken to court using DNA evidence.
He admitted the offences when he appeared at Newport Crown Court, the animal charity said.
He received three months in prison, suspended for two years, and was banned from keeping animals for 10 years.
The dogs are due to be rehomed in a few weeks.
Izzi Hignell, RSPCA inspector, said: "This was a disgusting and horrific case to investigate.
"These poor dogs have been subject to such a disturbing act, which would undoubtedly have proven a truly horrendous ordeal for both animals involved."