Parc Prison social care 'at risk' from budget cuts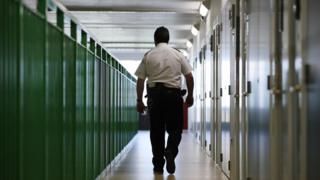 Cuts to social care for prisoners could put services at risk, a council has warned.
Bridgend council received more than £236,000 towards social care for inmates at HMP Parc prison last year, but has been given £18,000 for 2018-19.
The authority said it expected grant funding to remain steady, and the BBC understands staff may lose their jobs.
The Welsh Government said a decision to redistribute funds across all 22 local authorities was behind the reduction.
Bridgend council received £236,774 of grant funding to be put towards the category B prison last year, and £217,448 the year before, leading the authority to believe that would be allocated on a recurring basis.
But the Partnership Council for Wales, which represents local authorities, decided to transfer the £412,000 funding for social care provision for prisoners in the secure estate into the Local Government Settlement.
The resulted in the funding being distributed, usually given to councils with prisons in the catchment area, among all the Welsh local authorities.
Bridgend council used part of the funding to employ more members of staff, and it is understood that at least three members of staff could lose their jobs as a result of the change.
In a document which was discussed at a committee meeting yesterday, the council said it has been put in at "at risk position and at a financial disadvantage" by the change.
It said: "There was never an indication that the council would have to subsidise this service going forward.
"The council had been led to believe that the grant funding had been allocated on a recurring basis; and on that basis the secure estate team staff were recruited.
"Recent analysis suggests that the cost of the delivery of care in the secure estate is at least three times that of delivering care in general community settings, and that the delivery of social work is nearly four times the cost to deliver it in the community.
"The council has made representations to Welsh Government about the changes in the allocation of funding to support social care for prisoners and is intends to make further representations, with a view to requesting that the method of allocation is reconsidered."
Councillor Amanda Williams said the council cannot afford to cut the budget.
"We think it's wrong," she said. "My concerns are that we have £30m to cut and this doesn't help in any way shape or form.
"We just cannot cut it and we all agree that this isn't fair.
"Ultimately, the taxpayer will have to pay for this, and people who rely social service care may have to wait longer than prisoners for that service."
Security services company G4S, which manages the 2,000-capacity facility, declined to comment.
Parc, along with Cardiff and Swansea prisons, came under scrutiny this week when the Chief Inspector of Prisons Peter Clarke told MPs about his concerns involving overcrowding and drug use.
He said there had been "some deterioration" in the quality of prisons in Wales, making the case that poor conditions will lead to prisoners taking drugs.
"[If] people are confined in their cells for inordinate lengths of time, what do they do to pass the time?", he told the Welsh Affairs committee. "Sadly, all too often, they turn to drugs."
Overcrowding is also prevalent, with figures from December showing that all three prisons had more inmates than the certified normal accommodation (CNA).
Swansea had a baseline CNA of 268 inmates with 411 in house. Cardiff had 706 prisoners instead of the usual 539, and Parc had 1,736 despite the expected level being 1,559.
A spokesman for Bridgend council confirmed that it is currently in discussion with the Welsh Government regarding the funding allocation and "making sure that it is adequate to meet the new duties as set out in the Social Services and Wellbeing Act."