Merthyr weir to be altered to boost fish numbers in River Taff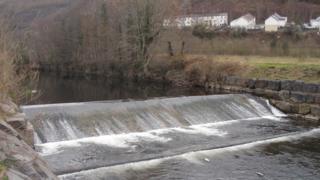 There may soon be more fish appearing in the River Taff as work to remove a major barrier to migration is set to get under way.
Natural Resources Wales (NRW) will demolish part the Merthyr Vale weir on Monday which will allow fish to migrate upstream to produce juvenile fish.
A channel will be cut through the weir to allow salmon and sea trout to swim and spawn beyond the village
Anglers have welcomed the work, which will take 12 weeks to finish.
Michael Clyde, Sustainable Fisheries Project Manager for NRW, said: "This weir is the final remaining significant barrier to fish migration on the Taff and its removal is an important step in helping to secure the future sustainability of migratory fish stocks."
Tony Rees, treasurer of Merthyr Tydfil Angling Association, said: "We welcome the proposal to remove the weir as this will greatly improve fish passage.
"This comes together with improvements the South East Wales Rivers Trust has made in making the Taf Fechan and Taff Fawr more accessible above Merthyr."
During construction, some of the riverside paths near the site will be closed and diversions will be put in place.