Hirwaun father shot and stabbed son in row over pizza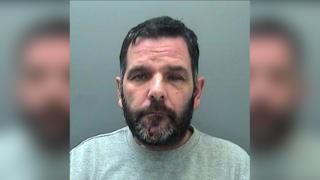 A father who shot his son with a hunting rifle when he tried to break up a row over a takeaway has been jailed for seven years.
Darren Moses, 49, fired twice hitting son Ashton, 21, in the stomach and arm, at their home in Hirwaun, Aberdare.
Ashton was also stabbed in the neck with a knife, when he tried to stop a row between his parents last October.
Moses, who tried to kill himself after the attack, admitted causing actual bodily harm to his son.
Ashton needed a three-hour operation to remove fragments of bullets from his stomach and arm, after being shot with the Czech-made .22 automatic rifle, Swansea Crown Court heard.
He was attacked when he tried to stop an argument between his parents over who should pay for the pizza.
The court heard that Ashton and his mother, Lynette Lamb, had forgiven Moses and did not want to see him jailed.
The rifle, which Moses had a licence for, was described as "potentially lethal", and Andrew Taylor, defending, said "it was miraculous" Ashton sustained only minor injuries.
'Grotesque shooting'
Mr Taylor said the incident was a "moment of madness" and Moses was not a very violent man but had been under pressure.
But Judge Paul Thomas said Moses was a potentially dangerous man and jailed him for seven years, saying the public had to be protected.
He said: "This started from a wholly, mundane, domestic tiff over whose turn it was to pay for a takeaway.
"You reacted with great anger and in a grotesque way you shot your own son in the stomach.
"You followed that up by stabbing him in the neck with a craft knife, then shot him again in the arm.
"It was a sustained attack on your own son which was terrifying for Ashton, his mother, other family members and neighbours."