Arla cheese to be labelled 'Welsh' but made in England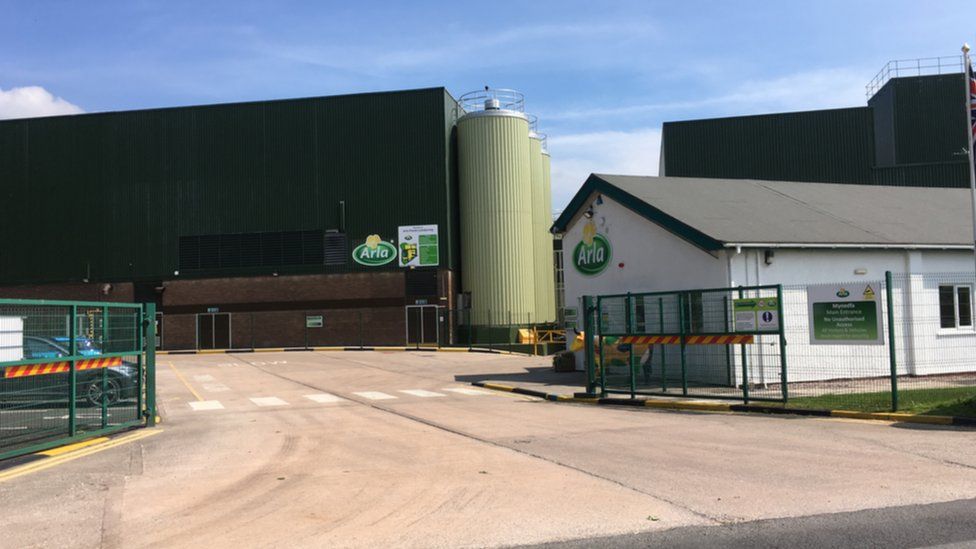 A dairy group intends to continue labelling its cheese as "Welsh" after moving its production to England, north Wales farmers have said.
They are uneasy after it emerged Arla's "Welsh" supermarket-own brand cheese will be made in Taw valley in Devon using Welsh milk.
The news comes days after the Denmark-based dairy group said cheese production would end at Llandyrnog Creamery.
However, some of the co-operative's local members and suppliers in north Wales have told Newyddion 9 programme the company is "pulling the wool over people's eyes".
"When I think of 'Welsh cheese' I think of Welsh farmers and Welsh workers producing it," said Arla member David Davies, who farms in Holywell in Flintshire, some 13 miles from the creamery.
"To just say that it's 'Welsh' milk made into cheese in England, it loses all credibility as 'Welsh cheese'."
A spokesperson for Arla said the company hoped the halt in production at Llandyrnog would be temporary as it continues to explore other potential production opportunities for the site.
"Under these proposals there is no impact to our supply of Welsh milk and our packaging would detail that whilst the product is made from Welsh milk, it is not produced in Wales."
Llyr Gruffudd, Plaid Cymru Assembly Member for North Wales, said there needed to be "integrity" behind the label.
"And if you lose that integrity, then you lose a great deal of value that people give to that label," he said.
"So we need to be careful. Clearly it happens in other contexts as well, but it leaves a nasty taste."
The factory will close by the end of the year, with a phased redundancy programme and production would move to other UK sites.