Some drunk offenders to be spared court and criminal record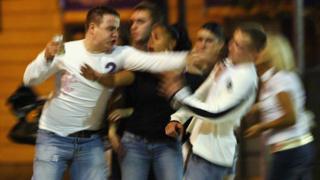 Offenders who commit minor crimes after drinking will be given the chance to attend a course rather than face court.
The two-hour educational session - similar to one for speed awareness - will cost £46.50 and will save people a criminal record and fine.
It will be offered on a discretionary basis for first-time offenders and low-level crimes including drunk and disorderly.
Gwent Police will become the first Welsh force to offer the scheme.
The scheme will apply to people who have been fined for a public disorder offence where drinking was involved.
These offences, which include being drunk in public or using threatening language, rose by 77% in the force area from 2014-15 to 2016-17.
Police and Crime Commissioner Jeff Cuthbert said it was not a "get out of jail free card" but an opportunity for people who have made "one silly mistake".
The names of those who complete the course will not show up on criminal checks.
Those attending will be taught about the long-term effects of alcohol and how to avoid behaviour that is likely to get them on the wrong side of the law.
Ch Insp Richard Blakemore said it forms part a wider strategy to tackle alcohol problems, to cut reoffending and break the cycle at the start.
The hope is the course will help highlight the effects of excessive drinking not just on the individual but on their family, friends and the local community.
"The focus of this initiative is education," he added.
"When people consume substantial amounts of alcohol, individuals can act out of character, we want to help those who make one bad decision not make the same mistake twice.
"We strongly believe this will help to reduce drunken incidents on our streets and make our communities safer."
The courses will be run by the TTC Group - which already offers speed awareness and drinking driving courses for police forces.
Its director Sharon Haynes said it will be aimed at making sure people do not to continue making the same mistakes.
'Pretty unruly'
"Many people will never have been in trouble before so, working with the police forces, we want to look at how we can educate them to make sure they don't reoffend," she added.
Dr Tim Brain, an honorary senior research fellow at Cardiff University and a former chief constable of Gloucestershire Police, welcomed the move but warned of its impact.
"The psychology around drunken behaviour [compared to speeding] is completely different," he told BBC Radio Wales.
"The results have to be monitored to see if there is any adverse impact on standards of behaviour.
"I don't think there will be for the simple reason that some of the towns and cities are pretty unruly places at the weekends at night."
Clive Wolfendale, chief executive of alcohol charity CAIS and former North Wales Police deputy chief constable, said the scheme offered a chance to "dissuade" people from being a nuisance.
He added: "There are too many people going through the criminal justice system who are simply abusing drink."