Dyffryn Gardens' 'hugely significant' paintings found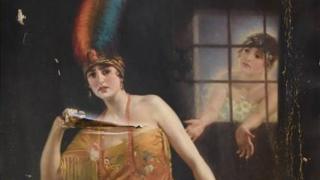 A "hugely significant" collection of paintings by a renowned artist has been discovered hidden away at a country manor.
The works by Margaret Lindsay Williams were found at Dyffryn House, near St Nicholas, in the Vale of Glamorgan.
One called The Imprisoned Soul was a controversial work focusing on death in the period around World War One.
The four pieces are in "a dire condition" with tears and holes and about £50,000 is needed to save them.
They were discovered as work continues to restore the manor house built in 1893 by coal magnate John Cory.
The house stayed in his family until 1939 when it was bought by Sir Cennydd Traherne who leased then sold it to the local council.
Parts of it were used for police training and as a conference centre until the National Trust took it on in 2013.
"It had been shut up for over a decade and when we found the works, nobody knew anything about them," said house steward Christina Hanley.
"But then a colleague saw one in a book about Welsh artists and we realised they could be quite significant."
However, it is feared the works could be "lost forever" unless significant funds are found to repair them.
Williams, who was born in Cardiff in 1888 and died in 1960, was commissioned to paint members of the Royal Family and some of the most notable people of her time.
These included Prime Minister David Lloyd George, American president Warren G Harding, motor company boss Henry Ford, King George V and Queen Elizabeth II.
The Imprisoned Soul, painted in 1920, was part of a series of her works with religious overtones.
It depicts a woman tempted by material things with her skeleton hand holding a tray of jewels, her soul locked away in a prison cell as a dagger is held to her throat.
The 6ft (1.83m) oil on canvas work no longer has its frame and was found "tucked away", leaning against a wall in the library.
Values of sister paintings suggest it could be worth about £19,000.
But its condition was described as "extremely poor" with a large tear, its paint "unstable and actively deteriorating".
The others are interior decorations on plaster showing scenes such as a sea maiden bathing and angels reaching for the stars.
They were found in a back room behind the kitchen.
Ms Hanley added: "These paintings are hugely significant ...every day they deteriorate just a little bit more.
"It is imperative we save them now before they become irreparable."
It is believed philanthropist Sir William James Thomas commissioned the works and they were donated to the former Glamorgan county council in 1955.