Parc prison officer's 'romantic letters' to inmate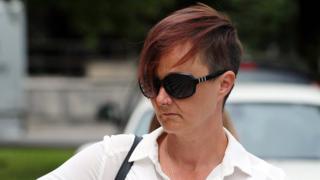 A prison officer who was carried to safety by an inmate during a riot has been sentenced for starting a relationship with him.
Following the 2015 incident at HMP Parc, Bridgend, Rebecca Rogers, sent 26 letters to the man and did not report he had a mobile phone.
Rogers, 38, from Swansea, said she developed feelings over three months when she became his personal officer.
At Cardiff Crown Court, Rogers admitted misconduct in a public office.
Her eight-month prison sentence was suspended for 12 months.
Judge Richard Williams said the defendant "allowed herself to be manipulated" by the man after he helped her when she was knocked out during the riot incident.
The court heard he had a mobile phone she knew about for six months before reporting it.
Defence barrister Matthew Henson said Rogers, a mother of five, was "remorseful" and was "ashamed for throwing away her career as a prison officer".
The Crown Prosecution Service's Kelly Huggins said: "Rogers was employed in a position of authority, but her actions were unprofessional and went against her obligations as a prison officer.
"It was clear that Rogers knew the relationship between the two was improper but she continued with it nevertheless."
Director at Parc Prison, Janet Wallsgrove, said: "This verdict sends a strong message that no-one is above the law and that where we witness misconduct by our officers we will always take action."