Newport fire: Arson arrests after club and church gutted in blaze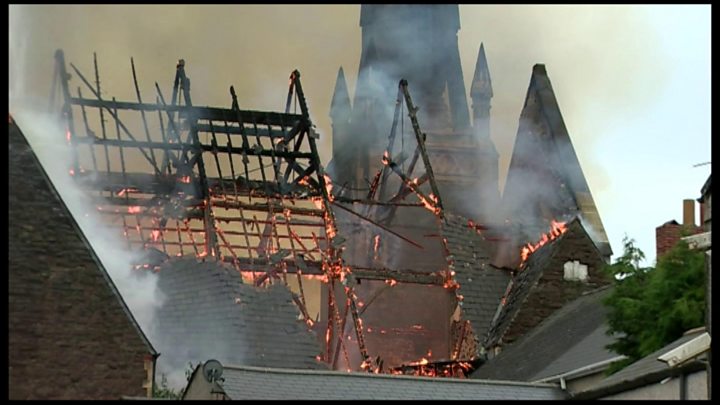 Two people have been arrested on suspicion of arson following a huge fire which gutted a 130-year-old church and a former nightclub.
The Grade-II listed Bethel Community Church on Stow Hill in Newport was destroyed after the fire spread from a derelict nightclub next door.
About 95 firefighters and police officers were at the scene on Friday and crews finally put the blaze out on Saturday evening.
No-one is thought to have been hurt.
A 43-year-old man and a 36-year-old woman from Newport remain in custody.
Gwent Police is appealing for witnesses and has asked for help in identifying people who were inside the derelict club at about 18:00 BST on Friday.
It has also emerged that concerns about the state of the former nightclub, which closed in 2010, had been raised with officials days before the blaze.
Newport Conservatives said they emailed the local council on 7 June calling for the former Zanzibar and Heights 2000 club to be inspected due to "fear this could collapse or end up going up in flames."
Newport council has been asked to comment.
The local authority carried out an "enforcement inspection", but the local Tory group want an investigation into why the council did not carry out a "full site inspection" - as they claim officers did not enter the building.
Newport Conservative activist Michael Enea said he emailed the council after worried residents contacted him.
They came following an online video showing people walking around the derelict building, which was full of debris and loose wires.
"There were quite a few concerns about the state of the building," he added.
"The roof had totally collapsed and caved in, the building was totally derelict."
The blaze broke out in the former nightclub, which was most recently called Escapade, and spread to the church just after 18:15 BST on Friday.
Crews from Cardiff helped their Newport colleagues tackle the flames - and at its height 19 appliances, including 10 fire engines, were used.
About 40 people were initially evacuated to the Newport Centre, a leisure centre in the heart of the city.
Newport council said the majority of residents will be able to return to their homes by Saturday evening. However, people living in two properties next to the church will stay in temporary accommodation for another night.
Fire officers, along with Gwent Police and Newport council, are now preparing to launch a joint investigation into the cause of the blaze.
Pastor Andrew Cleverly described the church's charred remains as "a traumatic scene".
"The church building is completely razed to the ground, it's just four walls left," he added.
"It was very sad - a lot of people were upset, holding hands and crying - there was absolutely nothing you could do.
"Our building may be gone, but the church is alive."
The fire was finally out by Saturday evening, but crews said they were returning regularly to keep an eye on the buildings.
David Bents, of South Wales Fire and Rescue Service, said: "There is extensive damage to both the church and the nightclub.
"We have high walls, debris sitting on high walls and ledges which causes danger to the public - so cordons are still in place."
Stow Hill will remain closed to vehicles and pedestrians, from the School Lane junction, until specialist contractors carry out a further assessment on Monday.
A cordon on Stow Hill and North Street remains around the church and Stagecoach Wales tweeted that it had affected some of its services.
Welsh Water sent tankers to the scene on Friday to ease the demand on the water supply.
A spokeswoman said: "As the fire is still ongoing, some customers in the Stow Hill area may notice a drop in water pressure or discoloured water. We have sent text messages to those who may be affected."