Newport church fire: Pastor urges community to 'be strong'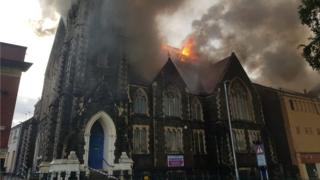 The pastor of a 130-year-old church urged people to "stand up and be strong" at a service held at a car park after the building was gutted by fire.
Grade-II listed Bethel Community Church in Stow Hill in Newport was destroyed after a blaze spread from a derelict nightclub next door on Friday.
Andrew Cleverly said: "Our building may be gone, but the church is alive."
A 43-year-old man and a woman, aged 36, arrested on suspicion of arson were released pending further inquiries.
An investigation into the cause of the fire is still continuing. No-one is thought to have been hurt but a cordon remains in Stow Hill.
About 40 people were evacuated from neighbouring properties after the fire, but some have since returned home.
On Sunday morning about 250 people attended an outdoor service close to the charred remains of the building.
Worshippers said prayers and sang songs as Mr Cleverly asked the congregation to "pray for the future of this church" and for the community to "stand up and be strong".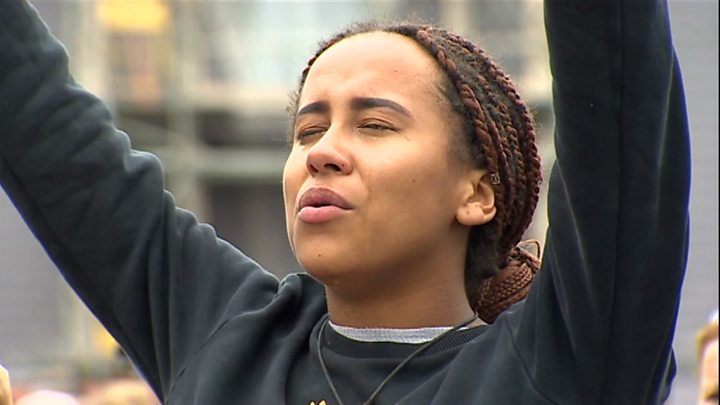 Mayor Malcolm Linton and council leader Debbie Wilcox attended and offered the authority's "continuing support in helping the church to recover from this devastating fire".
Ms Wilcox said "practical steps need to be taken" to support the church in "the short and medium term".
"Our staff teams have been working in close partnership with the fire and police teams since Friday evening."
Since the fire, it has emerged concerns about the state of the former nightclub, which closed in 2010, had been raised with officials days before the blaze.
Newport Conservatives said it had emailed the city council on 7 June calling for the former Zanzibar and Heights 2000 club to be inspected due to "fear this could collapse or end up going up in flames".
The complaints came following an online video showing people walking around the derelict building, which was full of debris and loose wires.
Newport council said it would be inappropriate to comment.
Stow Hill remains closed to vehicles and pedestrians between School Lane and Havelock Street, meaning some bus services through the city centre are being rerouted.
In the meantime, fire officials have thanked a fish and chip shop that gave free food and drink to more than 100 emergency service workers called out to the incident.
Clive Walker, owner of Teppett & Walkers fish and chips, worked throughout the night.
Jennie Griffiths, head of the control room for South Wales Fire and Rescue Service, described the gesture as "incredible kindness".