Newport crash leaves car balanced on top of another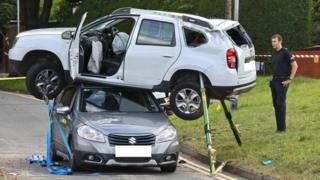 An 18-year-old has been critically injured in a crash which left one car balancing on top of another.
A white Dacia Duster ended up on top of a grey Suzuki in the three-car crash in Newport on Saturday.
The driver of the Dacia was airlifted to hospital with significant spinal and head injuries after the smash on Barrack Hill at 15:05 BST.
A red Land Rover Discovery was also involved but no-one one else was seriously injured.
Photographer Andrew Morgan Evans, 35, from Newport, passed the crash scene on his way home from shopping.
He said: "It was bizarre to see - it's not something you see every day, it's quite surreal seeing a car on top of another car and resting so neatly."
South Wales Fire and Rescue Service said three crews were sent to the scene of the crash, but were not required to free anyone.