Playwright Frank Vickery dies after short illness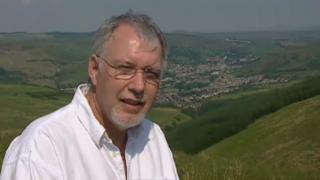 Tributes have been paid to playwright Frank Vickery, who has died after a short illness.
He was praised for making "a huge contribution" to theatre in Wales by different groups.
Born in Blaencwm, near Treorchy, in 1951, he started writing while at school and had his first success at 21 with comedy After I'm Gone.
He wrote extensively for theatre, television and radio, building a reputation as a pioneering playwright.
Vickery left Treorchy Comprehensive at 15 to work in a factory and on the buses without taking any exams.
But he described himself as having a "talent and good ear" and got involved in amateur dramatics and writing, saying he "made the best" of what he had.
Vickery said he was not interested in what people said but picking up the "music" and rhythms of how they spoke.
"There's no better thrill than being in the audience of one of my plays - or being in it - and hearing that laughter. It's like a drug," he told a BBC Wales documentary in 2006.
"I don't know how I'm going to survive without it. Everybody has dreams of one day going to live in Spain and enjoying what's left of your life but I'm hoping I've got a lot left.
"I've written 28 plays and I want to write another 28 plays."
He was associated with Treorchy's Park and Dare Theatre and Cardiff's Sherman Theatre before setting up his own production company, Grassroots.
News of his death has been met with a wave of tributes from the Welsh theatrical community.
The Drama Association of Wales said: "It is with much sadness that we have heard today that Frank Vickery passed away this morning after a short illness.
"Frank was one of the best loved playwrights in Wales and an avid supporter of DAW."
Neath Little Theatre described him as "a lovely man and a playwright loved by audiences" who supported it through producing his plays.
The Sherman Theatre tweeted: "It was with great sadness that we learned of the passing of much-loved playwright Frank Vickery.
"Through his plays, productions and performances as an actor Frank made a huge contribution to theatre in Wales."