Newbridge 'bubble boy' Rhys Harris wants to become a chef
By Nicola Smith
BBC News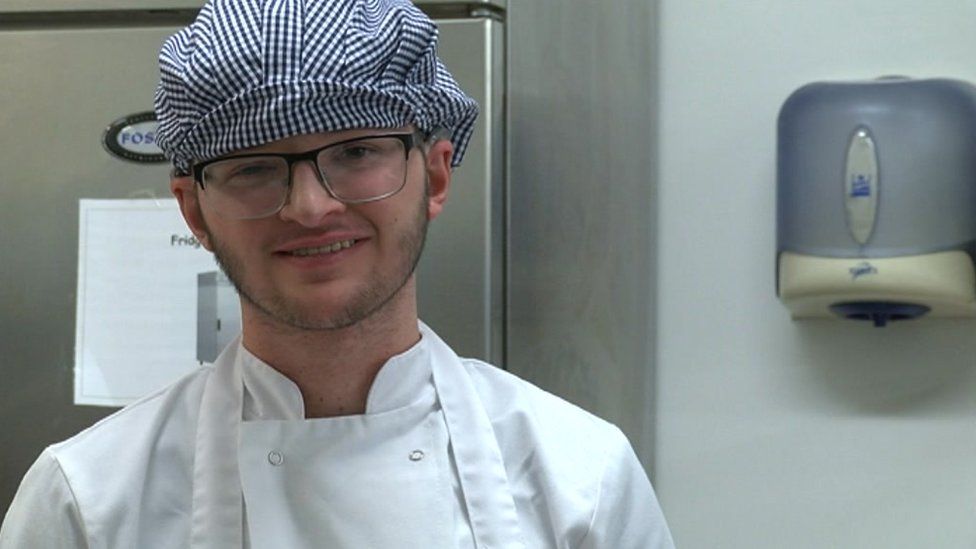 Rhys Harris was seven when he had pioneering medical treatment to save his life.
His rare genetic disorder, Nemo, was crippling his immune system. He needed a bone marrow transplant to replace it and had to travel from his home in Newbridge, Caerphilly county, to Newcastle.
Now, Rhys is 17 and wants to be a chef. His father Kevin describes his son as a "warrior".
"Rhys is in college, he loves cooking and wants to become a chef. That is his passion. He just loves, like he did as a seven-year-old kid, being a little monkey and enjoying life.
"He's trying to get on with friends and meet new people. It's a place we didn't allow ourselves to think we would be, but we're grateful that we are".
It's a world away from when Rhys was a child and his family weren't sure if he'd survive when doctors and nurses had to tell dad Kevin and mum Dawn the news no parent wants to hear.
"They had to sit down and tell us our child was terminally ill," Kevin said.
"That there were no options. However, we dug deep, we left no stone unturned and they said a bone marrow transplant was the only option."
His illness left Rhys profoundly deaf - he has cochlea implants and is learning to sign. Communication is a challenge at times, but he finds enjoyment in the kitchen.
"I like cooking. I'd like to be a chef," he said.
He's studying at Coleg y Cymoedd's Ystrad Mynach campus, for a diploma in hospitality. It's a course for young people with learning difficulties. Communication support worker, Sally Jones, works with deaf and hard of hearing learners, and has been with Rhys since the autumn.
"I can see development. He's talking more, getting involved with the class," she said.
"I'm proud and so are the teaching staff. We're a very proud team".
Gary Humphris, Rhys' course lecturer, added: "I've got to say he's come on leaps and bounds in the last six months. I've seen a real change in his character and his confidence. He's obviously faced a lot of challenges in his young life and that makes me admire him even more."
It's the kind of praise Kevin is overjoyed to hear: "It's good to see him doing something normal with normal kids and just getting on with life and doing something he enjoys and could make a future out of.
"It's fantastic. That's all anybody could ask of any of their children."
As the 70th anniversary of the NHS approaches, Kevin is clear what a difference it has made to his family.
"Without the NHS, Rhys wouldn't be here. If it wasn't for the whole NHS engine, we'd be a broken family now.
"He's a little warrior, he's battled through it all himself. All we could do is hold a hand and try to be positive.
"But at the end of the day, Rhys went through the pain, but he's battled his way through that, as he battles his way though everything in life, and he comes out smiling".