Cardiff buskers reprieved after council U-turn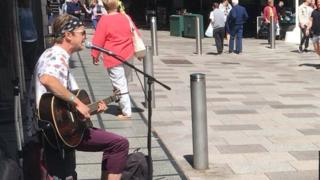 Buskers will still be able to perform in Cardiff without sending audition tapes after the leader of the council said the move was "not proportionate".
Cardiff council had sent letters to performers asking them to provide a clip of themselves playing music in order to gain a licence.
However, Huw Thomas, leader of the council said he was "not convinced" the move was the right idea.
The council said its busking policy will be reviewed again in the autumn.