Dancers compete in World Cup despite 24-hour flight delay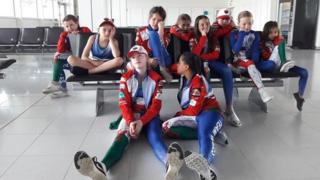 A group of dancers delayed for almost 24 hours have made it to the second part of the "biggest competition of their lives".
The girls, aged between 10 and 13, missed the first part of the Dance World Cup event in Barcelona.
But the team, who are from a Cardiff club and representing Wales, made it to the display on Saturday evening.
Airline Vueling blamed technical issues with an aircraft and an air traffic control strike in France for the delay.
The Planet Gymnastics acro dance team's 13:30 BST flight on Friday was cancelled but, after a day at Birmingham Airport, they took off at about 14:00 BST on Saturday afternoon.
The dancers have accused the Spanish budget airline of "not keeping them in the loop" although Vueling did put them up in a hotel at Birmingham Airport overnight.
The girls missed Friday's World Cup opening ceremony and their first event on Saturday morning.
Team organiser Eirian Thomas admitted there had been "some tears".
"It's so disappointing for the girls, they've been gearing up for this for more than six months," said Ms Thomas, whose daughter Mairwen, 10, is in the group.
The club have raised more than £3,000 to help to pay for the trip to compete against 50 nations and 5,000 other competitors.
"This is all their world has been about for months," Ms Thomas added.
"The girls were disappointed to miss the opening ceremony as we were meant to take part," added Ms Thomas.
"So we sang the Welsh anthem in the departure lounge and the girls did some moves."
A spokeswoman for Vueling confirmed there had been "technical issues" with the plane meaning it could not fly.
She added that sending another plane would have taken longer and the company understood it had been a "painful situation for the clients".