Trago Mills' slated for 'anti-Welsh language rant' letter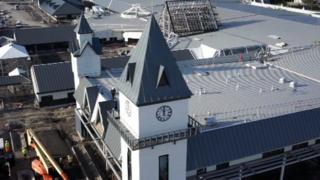 Trago Mills has been accused of an "anti-Welsh rant" after a letter was leaked complaining about bilingual signs at its Merthyr Tydfil store.
In a letter to the Welsh Language Commissioner, chairman of Trago Mills, Bruce Robertson, called the signs "visual clutter".
Welsh language campaign group Cymdeithas yr Iaith Gymraeg said the letter was "very offensive".
Mr Robertson said he would not "pander to minorities".
In the letter, Mr Robertson also criticises Welsh medium education, saying: "I also harbour misgivings upon the challenge to the educational system that teaching another language will pose, certainly if the existing standard of literacy is indicative, 'furniture' last week only being spelt by an employee as 'fernicher': forgive my ignorance but for all I know that may be the correct spelling ....in Welsh!"
Despite committing in the letter to erect bilingual signage, the signs at Trago Mills' Merthyr Tydfil store are currently in English only.
But Trago Mills chairman Bruce Robertson told BBC Wales: "I have never ever heard it spoken, and I frequent stores, I frequent restaurants, I frequent bars and I have many friends in the valley just across the road where I've spent much time across not 22 but actually 30 years, and in all honesty, frankly, I've never heard it spoken.
"With all due respect to Welsh speakers, with all due respect to local people, I have no lack of respect for them, that's why I've invested £68m into having a presence in Wales and creating 380 jobs.
"I'm unlikely to, as I say respectfully, to pander to minorities when trying to do the best for the majority."
Merthyr Tydfil has the second lowest number of Welsh speakers out of all 22 local authorities at 8.9%, although 27% of 10-14 year olds do speak the language.
The Welsh Language Commissioner, Meri Huws, said: "Research certifies that customers - from all over Wales - appreciate seeing businesses using Welsh.
"The statistics for the Welsh language are sound, with 80% agreeing that using the language shows respect for the community and 86% agree that it shows respect for the Welsh culture.
"We have proposed helping Trago Mills to develop the use of the language, and this motion is still standing."
Wyn Williams, chair of the local branch of Cymdeithas yr Iaith Gymraeg, said: "It demonstrates a complete disrespect for our country as well as our unique national language.
"They also reflect imperialistic attitudes that belong in the far distant past.
"The comments about education are completely ignorant - experts are clear that Welsh-medium education means pupils become fluent in both Welsh and in English.
"There are tens of thousands of Welsh speakers in the area the store serves, and it's insulting to them."