NHS 70: Aneurin Bevan Day celebrations in Tredegar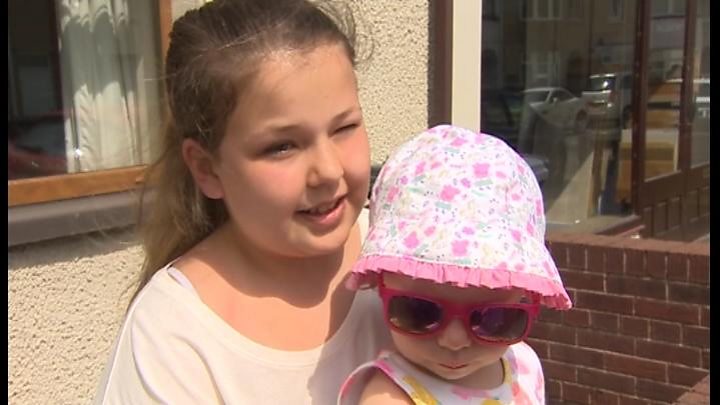 Hundreds of people descended on the hometown of Aneurin Bevan to mark 70 years since he founded the NHS.
Labour leader Jeremy Corbyn and First Minister Carwyn Jones attended Sunday's event at Bedwellty Park in Tredegar, Blaenau Gwent.
Aneurin Bevan Day began with a banner parade from his former home on Charles Street involving about 200 people.
Bevan, the architect of the NHS as minister of health in 1948, was born and brought up in Tredegar.
Bethan Davies, 12, who lives in the town, said seeing the people marching past her house "makes me feel really proud to be from Tredegar," while there were calls for a statue of him to be erected in his birthplace and a museum to be opened dedicated to the birth of the NHS.
Bevan was inspired by a late Victorian system that saw local miners and steel workers paying subscriptions every week to be covered for medical and hospital expenses.
It spread to involve almost the whole town - and to include dental treatment, visits by a district nurse and even access to a physiotherapist.
It was so successful that by the early 1930s more than 20,000 people were members of the Tredegar Workmen's Medical Aid Society.
Bevan said in 1947: "All I am doing is extending to the entire population of Britain the benefits we had in Tredegar for a generation or more. We are going to Tredegar-ise you."
Organised by the town council, Bevan Day also included Tredegar Comprehensive School pupils performing music and school oration and debating competitions.
Mr Corbyn told the crowd that growing inequalities in society caused many of the illnesses the NHS ended up treating.
"For years people were living longer and life expectancy was increasing," he said. "That has now ground to a halt and in some parts of the country life expectancy is falling. This is unprecedented."
First Minister Carwyn Jones praised the NHS as a "Tredegar invention, a Welsh invention, rolled out across the UK".
He said "every single person here" had a story involving the NHS, and he mentioned his own start in life as a baby in a special care unit.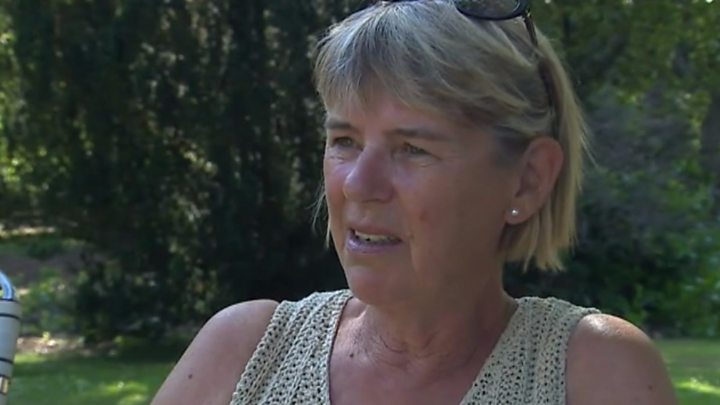 Who was Aneurin Bevan?
Aneurin Bevan was born at 32 Charles Street, Tredegar, on 15 November 1897.
His father was a miner and he was one of 10 children.
He struggled at school and left at 13 to begin working in a local colliery before becoming a union activist and winning a scholarship to study in London.
During the 1926 General Strike, he emerged as one of the leaders of the south Wales miners.
In 1929, he was elected as the Labour MP for Ebbw Vale - which included Tredegar - and in 1934 married another Labour MP, Jennie Lee.
After the landslide Labour victory in the 1945 general election, Bevan was appointed minister of health, responsible for establishing the National Health Service.
In 1951 he resigned from the government in protest at the introduction of prescription charges for dental care and spectacles.
He died from cancer on 6 July 1960, aged 62.
His ashes were scattered on the hills above Tredegar, and it was here that the Bevan Memorial Stones were unveiled by Michael Foot in 1972.
A plaque marks the site of his birthplace, the row of miners' cottages now replaced by a housing complex.
'It makes me proud'
From babies in their prams, to elderly in wheelchairs, people of all ages turned out to celebrate Bevan's legacy in the town.
And some remembered the birth of the NHS, or were born just days after it was founded.
Rita Hale, 96, from Tredegar, said she had heard Bevan speak when she was young girl. She recalled him wearing a black cloak and a four cornered hat.
"I wish there were a few more like him today," she said.
While Tony, 70, who has lived in Tredegar all his life and was born just four days after the NHS was founded, said he thought the celebration was "wonderful".
At the other end of the age range, pupils from Brynbach Primary School were involved in learning about their town's most famous son and took part in art and debating competitions.
Following a class project on Aneurin Bevan, Year 6 pupils argued whether the NHS should still be free at the point of need.
Lewis, 11, concluded that "health shouldn't depend on wealth" - to an audience including Health Secretary Vaughan Gething.
"Coming from Tredegar with all its history, we're quite proud someone world renowned came from here - and knowing what he did," said Lewis's mother Emma.
Jacob's parents both work in the NHS and he was inspired to use the words of Bevan in his speech, in saying that the health service would last as long as people were prepared to fight for it.
"It's good that children learn about the values - and are really enthused about what he did," said his mother Alyson, a health visitor.
Tredegar Town Band also premiered a new piece of music, Legacy, composed to mark the occasion - which will again be played in London on Thursday.
Afterwards, Nygaire Bevan, great niece of Aneurin Bevan, was presented with a flame in a miner's lamp, which she will accompany on its journey to Westminster this week via the miners' mural at Llandough Hospital near Cardiff.
She said she was "particularly moved" by the music and the procession involving the miners and the union banners, and said her great uncle would have been honoured.
Tommy Smith, leader of Tredegar Town Council, said: "It was really pleasing to see so many people come together - we're very proud in this town and we've tried to involve everybody."