Man hurt 'stopping car going into crowd' in Cardiff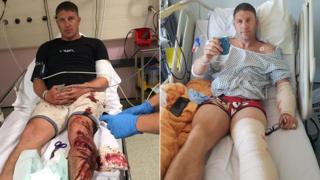 A man nearly lost his leg when he tried to stop a car being driven into a crowd of people, his wife has said.
Andrew Niinemae, 34, suffered severe leg injuries outside the Miss Jones bar in Whitchurch, Cardiff, in the early hours of Saturday.
The father-of-three's wife Rhia said he smashed the car window and pulled the handbrake but the vehicle reversed and his leg was trapped against a taxi.
Mr Niinemae needed emergency surgery at the University Hospital of Wales.
South Wales Police confirmed officers went to the scene "following reports of a dark-coloured car being driven deliberately at speed at a group of people" just after 00:30 BST.
The force said after crashing into a parked taxi, it left the scene at speed and they were now searching for the car's owner.
No-one else was injured in the crash.
"Andy is still in shock," Mrs Niinemae said.
"They tried to run people over outside Greggs and the Royal Oak.
"Andy realised they were heading for a crowd of about 20 people.
"He smashed the car window and pulled the handbrake and turned the car. They then reversed and Andy's leg got jammed between the car and a taxi.
Mrs Niimemae added: "He could have lost his leg, it was horrendous."
Witness Garion Rowe, who was working behind the bar at the Royal Oak, said earlier in the evening there had been a fight between two groups of "boys" in front of the pub.
"About five minutes later a car came careening down the road, up on to the kerb, and almost hit about five or six people," he said.
"He [Mr Niinemae] jumped in, put his fist through the window, pulled the handbrake up and I assume stopped him from doing any more damage.
"After that, they reversed down the road, crashed into about three taxis, and he fell out the window.
"I'd never seen anything like that happen before in the village so it was all a little bit frightening."
'Saved lives'
Bam Harding was working as a security guard and gave Andrew Niinemae first aid while they waited for an ambulance.
"All I heard was screaming and crying and I'm trying to attend to him to make sure he's OK, make sure other people are OK and that he [the driver] doesn't come back and smash into the bus stop," he said.
"If [Mr Niinemae] hadn't have stepped in there would have been lots of casualties, a lot of people would have got hurt. He saved a lot of lives."
Det Insp Paul Raikes, from Cardiff West CID, said: "This was a shocking incident that has left one man with a very nasty leg injury and understandably overwhelmed by what has happened."
He asked for anyone with mobile phone or dashcam footage or CCTV to get in touch,
Whitchurch councillor Linda Morgan called for security to be stepped up in the area after hearing about a number of "disturbing incidents" including a mugging and a stabbing in recent weeks.
"I'm concerned about an escalation of problems," she said.
"I'd like more of a police presence to ensure it's nipped in the bud."