Hundreds of wild Caerphilly ponies risk dehydration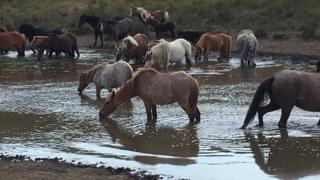 About 200 wild ponies could die of thirst because natural water supplies are drying up in the hot weather, a charity has warned.
The Welsh Pony Rescue and Rehoming Charitable Trust say all but one of the watering holes on Gelligaer Common, Caerphilly, has evaporated.
They are distributing thousands of litres of drinking water using a tanker borrowed from a local mining company.
Caerphilly County Borough Council is monitoring the situation.
Kay Lewis from the Welsh Pony Rescue and Rehoming Charitable Trust warns that if the hot weather continues it'll be increasing difficult to keep the horses hydrated.
"There is no water on Gelligaer Common at all," she said.
"We've just refilled one of the watering holes because it had turned into slurry and mud, and foals were getting stuck.
"Farm livestock have also been here looking for water; it's just been really desperate."
Rod Noble, manager of a local quarry that has donated a bowser to transport water in, said: "We just had to help.
"We've been concerned about the horses and all animals on the common.
"We've even seen sheep wander into the quarry looking for water."
In the past 24 hours over 13,000 litres of water has been transported from a nearby quarry to the common to refill one of the watering holes.
"Having the drinking water delivered has diverted a disaster," said Kay Lewis.
"Without it there would have been a loss of foals' and ponies' lives."
Officers from Caerphilly County Borough Council have visited the common to check on the welfare of the ponies with the charity.