Network Rail gives no end date for Cardiff electrification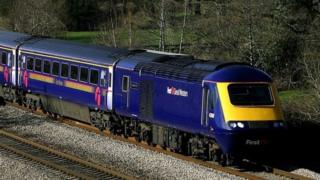 Network Rail cannot give a precise date for when work will end on the electrification of the south Wales mainline.
The £2.8bn project is aimed at speeding up journeys between London and Cardiff.
But a report by the Office of Rail and Roads "raised concerns" about when the work will start.
Network Rail could not give a date but it would deliver the project "as quickly as possible in 2019".
Transport expert Prof Stuart Cole said a lack of clarity had resulted from poor planning and changing policy.
Under original plans, the overhead wires were due to serve as far as Swansea.
As well as the £430m Cardiff-Swansea project, electrification schemes in the midlands and the Lake District were among those scrapped last July on grounds of cost.
But one expert believes the project will not be completed until late next year.
"The word going around in the transport industry was that the deadline is December 2019," said Prof Cole, who is professor of transport at the University of South Wales.
He said there were several factors behind the delay and lack of clarity from Network Rail, including allowing time for timetable changes.
But he said it was also a "hangover" from fleeting central government electrification policy.
"First it wasn't coming to Wales, then it was Cardiff and then Swansea, before being rolled back to Cardiff again," he added.
"They have been at the behest of changing policy."