Newport's Market Arcade restoration gets £1.1m grant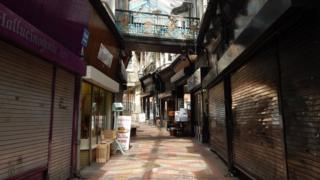 A Grade II-listed shopping arcade dating back to the 19th Century will be refurbished after winning a £1.1m lottery grant.
Market Arcade in Newport had been in a "spiral of decline", due to high vacancies and a pest infestation.
A restoration scheme has now been awarded cash from the National Lottery, with work due to start next year.
Council leader Debbie Wilcox called it a "brilliant piece of news for the city centre".
As well as improving the arcade and shops inside, money will also be spent on neighbouring properties on High Street and Market Street, the council said.
Work is expected to begin in early 2019 and take 15 months to finish.
Dating back to 1869, it was originally called Fennell's Arcade and is the city's oldest surviving arcade.
The latest cash announcement follows the awarding of £177,300 from the Heritage Lottery Fund (HLF) in March 2017.
Richard Bellamy, head of HLF in Wales, said: "This important asset will be given a new lease of life and made relevant for people today, so it can regain its place as part of the beating heart of Newport - for the good of the local community as well as visitors to the city."