Welsh childhood memories retold through hip hop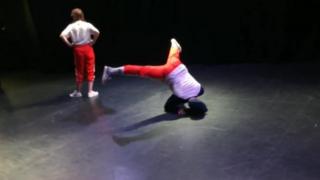 Childhood memories of 1970s coal mining towns and villages might not sound like classic material for hip hop - but one group has given it a spin.
The dance production debuts in Treorchy, Rhondda Cynon Taff, later before heading to the Edinburgh Fringe.
Workshops were held for people to tell their stories, which has inspired the stories featured in Blue Scar.
Rachel Pedley, of Avant Cymru, said: "People here know these stories and it's a new way of looking at them."
Stories told by people who were children in the 1970s include playing on the mountains, picnics, falling out, falling over and getting blue scars - caused when coal dust mixed with an open wound.
It is these stories the group is trying to recreate through hip hop and dancing.
Ms Pedley, the artistic director, said: "The foundations of that style of dance came from an area of deprivation in America where children couldn't afford televisions or comic books and they were acting out cartoons and characters through their movement in the 1970s.
"We wanted to relate the stories of the 1970s where locking was created with the stories of the Rhondda in the 1970s."
The specially-commissioned music mixes the violin of traditional Welsh folk music with beatboxing from Caerphilly-based Beat Technique, and part of the story is told through animation and film.
Gabrielle Williams, 18, who provides one of the voices for the animation, said: "It's mainly family bonding, not just between families in the blood sense but also in the community sense of the word."
Cast member Jamie Berry, from Swindon, said the show had something for young and old alike.
"They're going to get some high-flying tricks. They're going to get some amazing break-dancing, some comedy moments, some jokes and - for the older generations - some flashbacks to when they used to play on the mountains.
"They'll probably remember a few of the junkyard stories and it'll bring them a little 'oh I remember when we did that'."
Once Blue Scar's initial run ends, it moves onto Edinburgh, then will tour internationally next year.