Blaenau Gwent girl meets firefighters she thanked in letter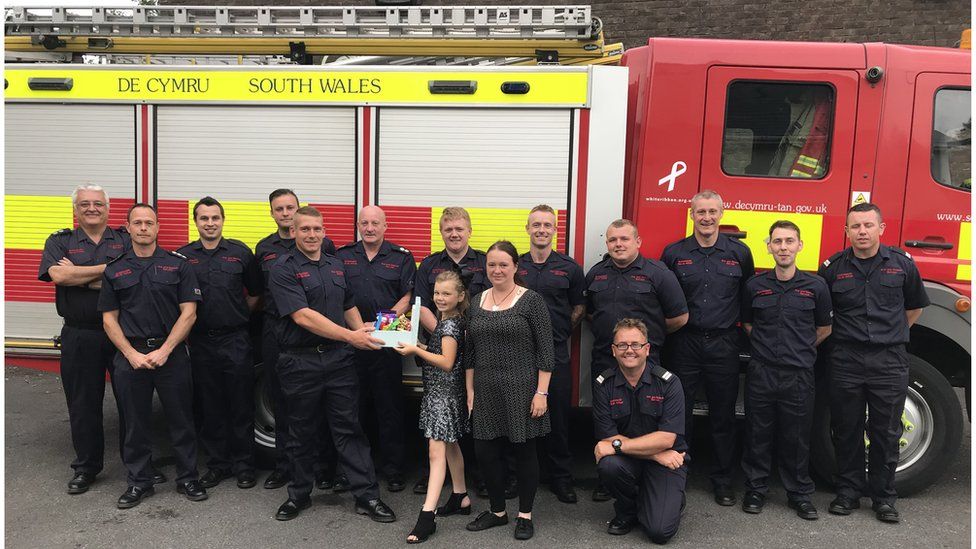 A 10-year-old girl who wrote a touching thank you letter to firefighters has met up with the crews she praised.
Firefighters in Brynmawr were so touched by her letter they invited her to the fire station.
Kelcea's mother Amie said the Blaen-y-Cwm primary school pupil had an "absolutely amazing" time.
She said her daughter was "made to feel very welcome" and "was just overwhelmed with it all".
In her letter, Kelcea said: "I would like to say thank you and well done for battling the fire in Cwmcelyn and making sure that everyone was safe.
"You are amazing in what you do helping save lives and making it a safe community to live in."
Now Kelcea wants to thank others involved in putting out the fires, including a helicopter pilot who doused the flames, Mrs Sainsbury added.
"Her lovely letter and offer of a gift box were a wonderful gesture - the crew at Brynmawr were really touched by this," said Brian Williams, station commander for Abertillery and Brynmawr.
"They want to say a huge thank you to Kelcea and to all the local the communities that have shown their gratitude through thanks and offering refreshments to all the fire crews during their many hours of very hard work."