'Hero' dog raises alarm over Cardiff garden fire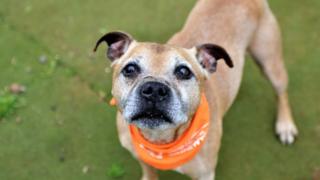 A rescue dog has been hailed a "hero" after he alerted his foster carer to a fire in St Mellons, Cardiff.
Bailey, a Staffordshire bull terrier, made Nicola Jones aware of the fire by barking and refusing to move and she called the fire service.
The blaze had spread across a neighbouring garden and had nearly reached the house.
Susie James from Friends of the Dogs Wales said Bailey was still looking for a permanent home.
A petition against adding Staffordshire bull terriers to the Dangerous Dogs Act is being debated in Westminster Hall on Monday.
Bailey was rescued in Newport after being found tied to a lamppost in the city.
He was then kept at Newport City Dogs Home before being temporarily placed with Ms Jones in St Mellons.
She took Bailey in on Sunday afternoon, but soon noticed that something was not right.
"At about three o'clock he woke up and started barking and sniffing the air," she said.
"He seemed anxious and unsettled, which I put down to the change of environment, so even though it was pretty warm outside, I put his lead on, and took him out to walk him in a shady area.
"As we approached the end of the road Bailey stopped dead in his tracks and started barking again.
"He wouldn't move, wouldn't budge, and I followed his gaze.
"Imagine my horror when I saw smoke, then what was clearly a fire blazing in someone's back garden."
The fire had destroyed a pagoda, shed, pergola, fencing and bushes.
"I'll be sad having to take Bailey back to the dogs home this week, but I'm glad I could give him some respite in the hope that he won't be in kennels much longer" she said.
The story comes as many people tweet about #PetFireSafetyDay - a national day raising awareness about fire risks involving pets.
Ms James shared Bailey's story on the Friends of the Dogs Wales Facebook page and said he now needed a permanent home.
"He's a senior dog, maybe 12 or 13 years old - he's hung up his superhero cape and just wants to find somewhere to retire now," she said.