Magaluf death fall teenager Thomas Channon 'much loved'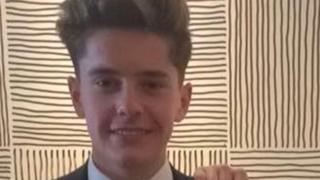 The parents of a Welsh teenager who fell to his death at an apartment complex in Magaluf have described their son as "gentle, kind and generous".
Thomas Channon, 18, from Vale of Glamorgan, is the third holidaymaker from the UK to die at the Eden Roc complex this year.
Inquiries into his death are ongoing.
In a statement, his parents John and Ceri Channon said they were devastated by the loss of their son, who had been celebrating the end of his A-levels.
"He was a gentle, kind and generous young man. He was a model son, brother and grandson who will be dearly missed," they said.
"During this difficult time, we ask for the space and privacy to try to come to terms with a loss that will never be filled."
Mr Channon had studied A-levels in economics, history, and English literature at St David's College in Cardiff.
A spokeswoman described him as a "very popular student" on the honours programme.
"Respected by his teachers and loved by his friends, his sudden passing comes as a shock to the St David's College community that will surely be felt by us all for a very long time," she added.
Several tributes have been posted on a Facebook page for Mostyn High School, where Mr Channon also studied.
Barry Athletic Tennis Club also tweeted: "BATC would like to express its deepest sympathies to the family and friends of Tom Channon.
"Tom had recently joined the club and we are shocked and saddened to learn of this tragic loss."
Mr Channon was staying at the nearby Universal Hotel Florida and Spanish police believe he wandered into the complex before falling about 70ft (21m) at about 04:00 local time on Thursday.
His body was found later by a gardener.
A mother of one of the teenagers on holiday with Mr Channon, who did not want to be named, said: "We went to where Thomas fell and the wall is way too low. It's about knee height.
"When you look at it there are loads of trees and bushes beyond the wall which gives the impression there's a garden, but there's actually a 70ft drop."
Neighbours described the Channon family as "lovely" and always polite.
"It's so sad," one resident said. "It's heartbreaking for them."
In June, 20-year-old Tom Hughes from Wrexham also died after falling about 65ft (20m) from the apartment block.
In April, Scottish teenager Natalie Cormack, 19, fell to her death from the seventh floor.
Following those two deaths, travel agents group Abta urged holidaymakers to avoid taking risks on hotel balconies.
It said in 2017 its members reported 12 balcony accidents.
There have been nine reports of similar incidents - including five fatalities - since March, Abta said.
In the aftermath of Mr Channon's death, Calvià Town Hall held a meeting attended by local mayor Alfonso Rodríguez Badal, tourism officials, a surgeon from the local hospital and the head of the town's police.
A cause of death for Mr Channon has not yet been established.
A candlelit vigil will be held at St Peter's Church in Rhoose on Tuesday.
Reverend Melanie Prince said: "We decided to open up the church to allow people to express their grief as well as send a visible message of support to the family."