The Cardiff teen who joined the RAF's centenary flypast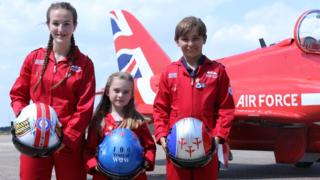 With almost 100 planes taking to the sky, thousands of people gathered outside Buckingham Palace with eyes turned upwards.
Just after 13:00 BST on 10 July, the sound of helicopters announced the start of the RAF's historic centenary flypast.
The Queen waved from the balcony as Spitfires, Typhoons, F-35 fighters and finally the Red Arrows made their way down the Mall.
And somewhere in the middle of it all, one teenager was having a flight she would never forget.
Fifteen-year-old Chloe, from Cardiff, was a passenger in an RAF Voyager aircraft as it flew down the Mall.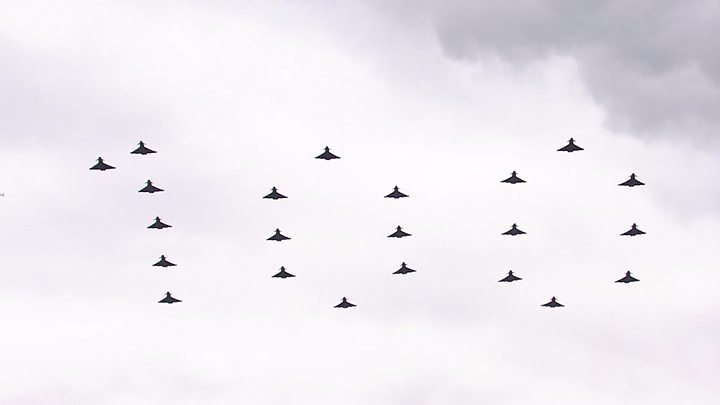 The teenager earned a spot on the flight after designing a helmet for Red Arrows squadron leader Red 1.
Her design was one of the winning entries in a competition for the BBC's Blue Peter programme, entered by over 7,000 young viewers.
"The last time I'd flown was when I was nine months old, so this was my first proper time on a plane," said Chloe.
During the four-hour round trip from RAF Brize Norton to London, an RAF pilot sat with Chloe and the two other competition winners and explained how the plane worked.
"It felt really special. We were given seats right by the window too, so we got to see all of London when we went over," Chloe added.
"I'd been a bit nervous, but it was amazing. Coming down over London and seeing the city from such a low plane was just the best."
A keen GCSE art student, Chloe's design included the RAF's signature feathered wings, as well as the Latin motto Per Ardua ad Astra - meaning "Through struggle to the stars".
The teenager found out in early June that she had won the helmet design for her age category - but could not tell her friends until the official Blue Peter announcement.
"I had to keep it secret from everybody apart from close family. I couldn't tell anyone in school," she said.
"It was hard, but I managed it."
Chloe will feature on CBBC's Blue Peter on Thursday 19 July.