Parents queue up overnight for Cardiff school breakfast club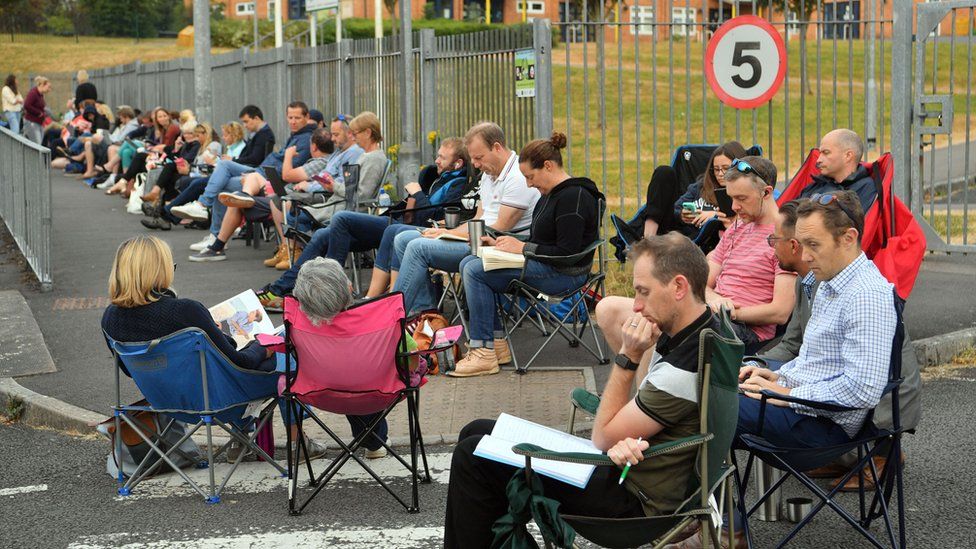 Dozens of parents queued up outside a Cardiff school from the early hours of the morning in a bid to secure their children a place at its breakfast club.
Parents arrived at Ysgol y Berllan Deg prepared for a long wait with folding chairs, magazines and snacks.
The school in the Llanedeyrn area of Cardiff has 100 breakfast club places which are in high demand and allocated on a first-come-first-served basis.
Parent Leanne Taylor said she had been outside the school since 03:30 BST.
"This is my second year doing this... if I didn't get a place in breakfast club it would be impossible for me to continue in my job," she said.
She said the morning build up of traffic on her daily commute meant a place was essential.
"If I drop my daughter off at eight I can get in by quarter past, half past," she said.
"If I dropped her off at nine I'm unlikely to start work until round 10 o'clock and I don't think my managers would be as understanding as they are right now."
It is meant to help improve health and concentration and "to assist in raising the standards of learning and attainment".
"Places at Ysgol y Berllan Deg's breakfast club are in high demand," said a Cardiff council spokeswoman.
"Additional places have been created every year and the service is regularly reviewed.
"However, unfortunately due to staff and space limitations, the school is unable to provide a place for everyone who applies."