Twmbarlwm fire: Second fire at site of 'deliberate' blaze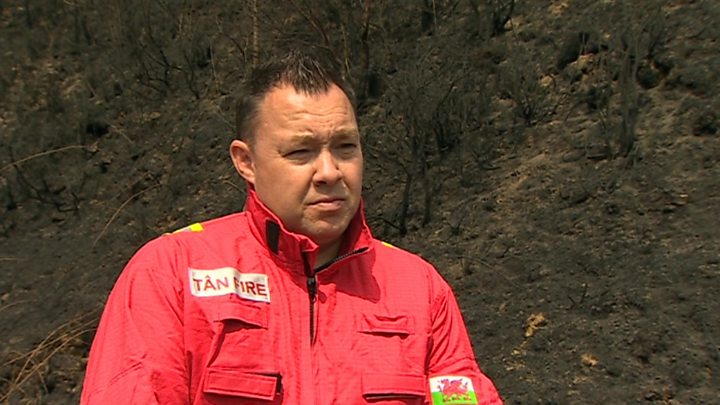 A second fire has flared up on a mountainside where police said another blaze was started deliberately.
The area of the fire at Twmbarlwn, near Cwmcarn, Caerphilly, grew from 100 hectares (247 acres) to 140 (346 acres) on Friday.
Thirty firefighters were tackling the initial blaze on Thursday and the fire service hoped to have both under control on Friday or Saturday.
Crews were also fighting a wildfire between Merthyr Tydfil and Troedyrhiw.
Two crews were at the site of the second fire on Twmbarlwm, where firefighters were using an off-road vehicle and an appliance.
Crews had spent five days bringing an earlier fire at Twmbarlwm under control after it started on Saturday.
"We are still tackling the fire - it is very difficult to tackle due to the ground and environment," Matt Jones, head of the fire crime unit at South Wales Fire and Rescue Service, told BBC Radio Wales.
"But our crews are getting on top of it and we are hoping that with our continued firefighting efforts, we will get it dealt with either today or tomorrow."
Crews have been called in from Aberbargoed and Chepstow.
A fire involving grass, bracken and trees on five hectares of mountain between Merthyr Tydfil and Troedyrhiw was being tackled by two crews.
The emergency call came in just after 07:30 BST on Thursday morning.
The fire service has asked people to stay away from wildfires and refrain from lighting fires or barbecues.