Gelligaer residents angry over Bryn compost site smell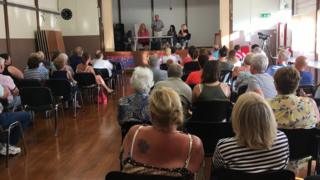 Residents have voiced their concerns about the "unbearable" smell coming from a recycling plant in Caerphilly county during the heatwave.
About 75 people from Gelligaer attended a public meeting on Monday about the Bryn compost and quarry site, which is looking to expand.
They said the hot weather has made conditions worse with dust from the quarry also affecting people nearby.
The company, Bryn Group, said it was taking action.
Harriet Weyman, who lives on Gelligaer estate, said: "The smell is getting worse and we've now got rats to deal with too.
"I want to get the paddling pool out for the children and have a barbecue, but we can't because the smell and dust is that bad. We don't even open the windows.
"I won't invite anyone over my house, it's too embarrassing."
A Bryn Group spokeswoman said the company was working hard to improve communications with residents and taking action on site.
She explained that a peat fire had been burning nearby and that it had recently been put out "so, hopefully, that will stop the burning smell".
She added: "We have a dust suppression system across site and we have just been given special permission from Caerphilly council to start wetting the access roads prior to our start time."
A Caerphilly council spokesman said its environmental health team regularly monitored the site and the independently run quarry with "control measures in place to limit dust, odour and pests".
He added: "The ongoing spell of warm, dry weather is obviously having an impact on operations at the site and we will continue to work with the operator and local residents to help address any concerns that may arise."
Caerphilly councillor Wynne David called the public meeting to explain to angry locals why he is in favour of Bryn Group's expansion plan.
"I supported the approval of this application because there are rigid conditions in place which control the dust that is generated by it and there are onerous conditions the applicant will have to obey," he said.
"I've annoyed a lot of residents by voting to approve it."