Homeless man's Cardiff park death 'diabetes-related'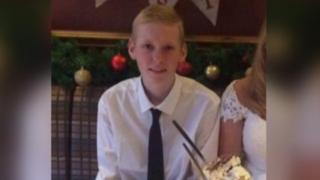 A homeless man who died in a Cardiff Bay park had not been taking enough insulin to treat his diabetes, an inquest has found.
Aaron French-Willcox, 19, was found dead in the tent he had been living in at Hamadryad Park on 13 February.
The young father's "difficulties" managing his diabetes had led to a diabetic coma just a week earlier, the Pontypridd hearing was told.
A post-mortem examination revealed he had died from diabetic ketoacidosis.
Although very little alcohol or drugs were found in Mr French-Willcox's system, he had an addiction to several drugs including heroin, Spice and crack cocaine, the inquest heard.
Mr French-Willcox was known to the homeless charity and shelter Huggard, which told the inquest he had first accessed its services last year.
His doctor told the inquest that Mr French-Willcox had been admitted to hospital on "multiple occasions" for "complications" with his diabetes.
PC Thomas Job, who was called to the scene of his death, said in a statement that Mr French-Willcox was "extremely thin".
The coroner recorded the cause of death as "natural causes contributed to by self-neglect".
His mother, Rebecca Louise Ward, said in a statement: "He was a happy-go-lucky child with lots of energy."