Mining beauty spot at Tirpentwys, Pontypool, 'could be ruined'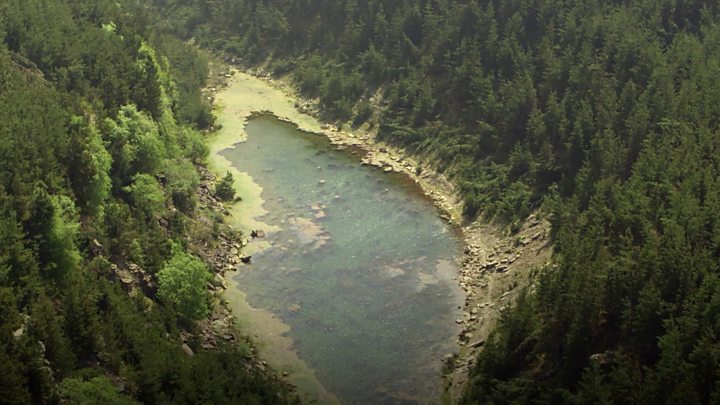 A former opencast coal mine that has been reclaimed by nature could be destroyed by redevelopment, campaigners fear.
They claim the site - on the border of Torfaen and Blaenau Gwent - is now a popular "hidden gem" of a beauty spot and should not reopen.
Last year, Torfaen council rejected plans to remove millions of tonnes of sandstone from the Tirpentwys site.
But the developer, Peakman Limited, has appealed.
It previously said re-opening the mine near Pontypool would create 12 jobs.
But more than 1,700 people have joined an online group against the plans, saying the privately owned area - known locally as "the canyons" - has been used regularly by people since opencast mining stopped in 1962.
Tirpentwys was left largely as it was when the machines stopped and a small lake formed in the middle of narrow, steep-sided valleys.
Hywel Clatworthy, who runs the 'Residents opposing the quarry' Facebook group, said the beauty spot has become more and more popular.
"Open cast happened in this area and this is what was left - nature has recovered it and it's just a beautiful place," he said.
"People worked this area in the 1950s, people have walked this area, enjoyed it, camped here and it's kind of a bit of a rite of passage for teenagers to come out here.
"It's a real piece of history, part of our heritage and it should be kept.
"We desperately need good jobs in this area, but this is just 12 jobs and 100 lorries a day - the balance isn't right, there's not enough community benefit to lose this for that."
Torfaen council unanimously rejected plans for a new access road through ancient woodland to enable up to 100 heavy goods vehicles to remove millions of tonnes of aggregate from the area in 2017.
Peakman Limited's managing director, Bernard Llewellyn, did not respond to BBC Wales' requests for a comment.
The company previously said land would be "remediated" after 19 years - partly filled in, with trees and shrubs planted "in character with the wider area".
Mr Clatworthy's mother, Olwen, remembers the site in the 1960s just after coal mining stopped.
"We thought 'they've left this scar on this land and it will never heal', but it did heal - nature has healed it," she said.
"We never want to go through what we went through before. People have come up to this mountain, it's been their natural resource and now we're faced with losing that.
"Why would you want to stop people enjoying what we've been given in natural resources? I don't understand it."
A planning inspector is set to consider the developer's appeal later this year.