Smoothhound shark washes up on Newton beach, Porthcawl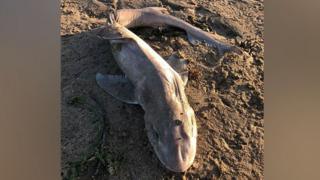 A shark has been found washed up on a beach in Wales.
The smoothhound shark was spotted on Newton beach, near Porthcawl, on Wednesday.
But Bridgend County Borough Council said it was "less of Jaws and more of Gums" as the species eats mainly molluscs, crustaceans and shellfish.
The shallow-water species is also known as the "gummy shark" and is not usually a risk to humans. The council has arranged for the shark to be removed.
You may also like:
Last year a smoothhound shark was blamed for biting a surfer in south Devon.
Smoothhound sharks
Found in the eastern Atlantic Ocean from the British Isles to South Africa, and in the Mediterranean Sea, Madeira, and the Canary Islands
Although they can grow to two metres (6.5ft), their usual maximum size is 1.5m (5ft)
Smoothhounds frequent both inshore and offshore habitats, often over tidal flats, off estuary mouths and in shallow bays
Source: European Federation of Sea Angler