Mold soldier memorial statue 'damaged beyond repair'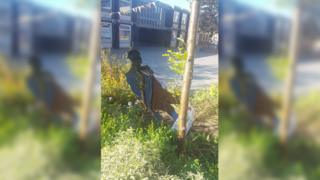 A metal statue commemorating soldiers who have died in war has been "damaged beyond repair".
Mold Town Council said it is the second time in a week that the 'Silent Soldier' has been damaged.
Two silhouette statues had been erected in the town as part of the Royal British Legion's There But Not There campaign.
Mold Town Manager Dave Hill said the damage was "a mindless act of vandalism".
The statue, which stood in Daniel Owen Square, was initially damaged on July 25th when it was left bent and scratched.
It was then damaged again within a week and was left in some bushes.
Mr Hill said: "The widespread community is frustrated and angry at this mindless and despicable act of vandalism. Mold is a nice, quiet community where acts of vandalism like this do not take place.
"The Silent Soldier is a sign of respect for the residents of Mold whose family and relatives fought in war and other conflicts. We would urge anyone with information to contact the police or call the town council directly."
Mold Town Council donated £500 to the Royal British Legion for two statues to be erected in the town; one in Daniel Owen Square and another at Bailey Hill.
Samantha Roberts, Mold Town Clerk, said: 'It's so upsetting to experience a second attempt in a week to deface the Silent Soldier."
A new replacement statue is now being made with a stronger metal by a blacksmith in Alltami.