Newport bus stop attack on teen girl sparks campaign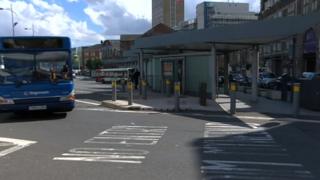 An attack on a teenage girl has led to a campaign to cut anti-social behaviour in Newport city centre.
Annette Farmer started a group on social media after her 15-year-old daughter Lilly was attacked by a group of teenagers at the main bus station.
The Newport Market chairwoman said others have also been bullied at the station and had phones stolen.
Gwent Police said it is combating the problem with a special team and increasing police numbers.
"She managed to get away but her friends got kicked and punched in the jaw and head," said Ms Farmer, whose Facebook group has attracted more than 500 members.
"She ran into Debenhams to get away from them and they chased her in. Luckily, security came down and broke it up."
Ms Farmer added: "She was devastated by it. She won't come into Newport on her own again - she's lost her confidence and her friends have as well."
She added the problem is "getting worse" and called for an increased police presence in the city centre.
"The bus station has become a magnet for bored teenagers and gangs, acting intimidating and causing trouble," she said.
John Davies, the Newport city centre inspector for Gwent Police, acknowledged there was a problem but said there had been a "significant improvement".
"We have set up a tasking team of 13 officers and a sergeant targeting the individuals that are actually hurting the area the most and these are the individuals we have been arresting over the last couple of weeks," said Insp Davies.
"We want people to be able to go about their lives without worrying about intimidation from gangs of young people."
Insp Davies added that Newport city council had approved a new public space protection order which will stop gangs hanging around the area.
The local authority would not comment.