Electric public transport drive by Caerphilly council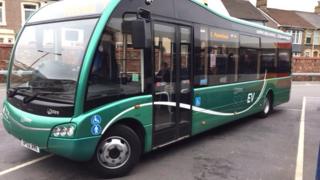 All public transport in a south Wales county could go electric with an £8m plan that its promoters think could be a UK first.
Caerphilly's plans are backed by Stagecoach, which is bidding for funds to buy a fleet of 21 electric buses.
Rail lines in the area are due to be electrified by 2023 as part of the South Wales Metro project.
Caerphilly is also planning to install its first publicly-available charging points for electric vehicles.
The plan was approved by councillors who were told they needed to catch up with other authorities that already have charging points in place.
Last year 82 electric or hybrid vehicles were registered in Caerphilly county borough, and its mayor Mike Adams has been using an electric car to attend civic appointments since May.
Council chief executive Christina Harrhy said the idea of an all-electric public transport hub could turn Caerphilly into leaders.
"A fully-electric hub would be the first in Wales and certainly the first in the UK," she told councillors.
Nigel Winter, managing director of Stagecoach South Wales, said he hoped an all-electric network would "engage and inspire" the travelling public, raising the profile of green transport and cutting car journeys.
The firm is putting up £4.6m itself, and seeking £3.45m from a UK Department for Transport scheme to promote low-emission buses.
Stagecoach already runs electric or hybrid buses in a number of UK towns and cities, including Dundee and Oxford.