Swansea walker, 68, found dead in Italian Dolomites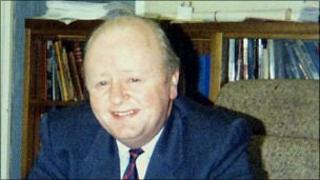 Tributes have been paid to a walker, found dead 12 days after going missing in the Italian Dolomites.
Magistrate Robert Collins, 68, described as a "very loyal servant" to his community in Swansea, was last seen leaving his hotel on 7 July after saying he was going into the mountains.
His body was recovered in undergrowth in Alleghe, in northern Italy.
The Foreign Office is helping his family, who live in the Mayals area of the city.
Mr Collins had served as a magistrate in Swansea since 1982 - both in the adult and youth courts.
Clerk to the Justices, Jim Hehir, said: "He was a nice guy and Swansea has lost a very loyal servant to the community - someone who gave a large part of his life to looking after other people.
"If he was sitting on the youth board he always had their welfare to mind. He was always very thorough and fair."
Mr Hehir said Mr Collins was widely respected by the legal community as well as his colleagues on the bench.
"We are all still in a state of shock," he added. "He will be sadly missed."
Mr Collins, an experienced climber and walker, had travelled to the Italian Alps alone.
He had been on many similar holidays in the past and had telephoned his wife Margaret to say he had arrived safely and was having a nice time.
When Mr Collins, who had a son, failed to return to his hotel after going on a day walk, staff contacted the Carabinieri - Italy's military police force - and a search operation was immediately launched, the newspaper said.
However, the Foreign Office said on Sunday evening that his body had been found.
Alleghe is a picturesque village of traditional wooden chalets, popular as a ski resort in winter and with walkers in the summer.
The tallest peak in the area, Monte Civetta, is a noted climbing spot which rises to a height of 3,220m (10,564ft).