Funeral held of Llanelli soldier, bomb disposal expert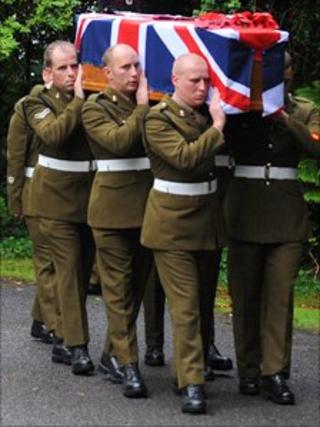 The funeral of a bomb disposal expert killed in Afghanistan has taken place in Carmarthenshire.
The family of Cpl Jamie Kirkpatrick, 32, paid tribute ahead of the service at All Saints Parish Church in Llanelli on Tuesday.
He died in a battle with insurgents in Helmand province on 27 June.
His family said he was "an exceptional person doing an exceptional job", who with his colleagues saved hundreds of lives.
They added: "He died a soldier's death amongst friends and comrades who loved and respected him and that has been a great comfort to us."
Born in Edinburgh, he was raised in Llanelli and leaves behind his wife Heidi and their daughter Holly.
"At this time we as a family feel a deep sense of sorrow but also immense pride," they said.
"Jamie was an exceptional person doing an exceptional job, and alongside his comrades he saved the lives of hundreds of people by dismantling IEDs [improvised explosive devices].
"As a soldier, he proved that he had many qualities that made him a great leader.
"He was very calm under pressure and had an amazing ability to lift spirits when morale was getting low, often taking time out to comfort and cheer up anyone who he noticed needed it.
"Though we loved him for just being Jamie, the solemn pride that we hold for the contribution and sacrifice he has made for this country is a ray of light in an otherwise dark hour.
"The family has received an absolutely massive amount of sincere condolences, messages, visits and calls of support."
They said he had a great love of travel, adventure and sport.
"Jamie packed more into his 32 years than most people manage in a lifetime," said the family.
"He has a large group of very close friends at home in Llanelli and they have remained extremely tight as a group for many a year.
"He will always be remembered for being at the heart of most of the great tales and memories the boys have.
'Shine on'
"The absolute devastation felt by his friends on hearing of his passing is another indication of how truly adored he was."
Cpl Kirkpatrick joined the Army when he was 19 and served in the Falklands and Iraq as well as Afghanistan.
He married in 2008 and the couple's daughter was born in early 2009.
"His memory and spirit will live on in all of our hearts, but it is in Holly that his legacy will really shine on," said the family.
"She was a real daddy's girl and will always be constantly reminded how much of a hero her dad was."