Surprise show as teacher Peter Jones retires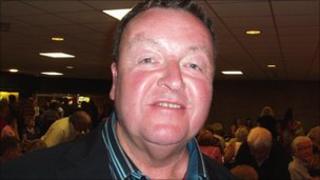 Past and current pupils have staged a surprise performance at a theatre for their teacher who is retiring after almost 40 years.
Some travelled from abroad for the tribute to Peter Jones, deputy head at Cefn Saeson school in Cimla near Neath.
He directed all of the school's plays and musicals during his time there.
The one-off show at the Princess Royal Theatre, Port Talbot, comprised songs from shows put on at the school over the years.
Mr Jones thought he was attending a show for a local cancer charity of which he is chairman.
He said: "It's a massive shock, I honestly didn't know anything about it. My wife is a genius of deception.
"A huge, huge thank you. I am so grateful for this.
"Enjoying the job is essential and I've enjoyed every day of it."
He started his teaching career in 1972 and has been at Cefn Saeson Comprehensive for 31 years.
Drama teacher Catie Parry co-directed many of the productions with Mr Jones, who is also known as PJ to his students.
She left the school five years ago but said she was determined to put on a show in honour of her colleague when he decided to retire.
"He was a good friend and a very well respected teacher," she said.
"I wanted to do something very special when the time came that he was going to leave.
"I started contacting former pupils all over the world. I used Facebook, sent emails out and got mobile phone numbers.
"The response was just overwhelming, because he's so well loved."
More than 100 current and former students took part.
Nichola Isacc, who left Cefn Saeson in 1987, travelled from Qatar where she now lives.
"We've all come back to show Mr Jones that we do appreciate what he's done for us over the years," she said.
Andrew Tristram, who left the school in the same year, now works as a lighting designer in a theatre in Denmark.
He said: "Peter Jones was the best teacher I ever had. The way he taught was effortless but was riveting."