Faulty limo carrying Llanelli school pupils seized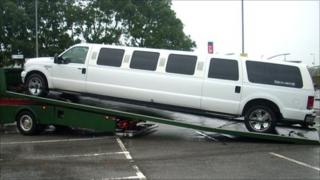 A limousine carrying primary school pupils to a leaving celebration has been seized after police said they found a "shocking" catalogue of faults.
It was stopped after transporting 16 youngsters in Llanelli.
Police said it had no MOT, defective brakes, wheel nuts were missing and the doors did not shut properly.
Dyfed-Powys Police said while the owner had the right to appeal if this was unsuccessful the vehicle would be disposed of.
The force said it used new public service vehicle legislation to seize the limousine.
Pc Adrian Hughes said the vehicle had taken the primary school to Trostre Retail Park as part of their leaving celebrations.
A member of the public noticed the doors were not shutting properly and notified the police and the Vehicle and Operator Services Agency (Vosa). Following investigation the limo was eventually seized.
Pc Hughes said: "This vehicle had quite a shocking range of defects.
"Obviously the children who had travelled in the limo were put at risk, and their parents, who'd paid a substantial amount of money for the trip were shocked and disappointed.
"Hopefully this seizure will send a clear warning out to others operating public service vehicles that safety of the passengers is paramount and we in Dyfed-Powys Police will take the appropriate action against those who don't follow the law."
Andrew Rustage, Vosa senior vehicle examiner said the agency had worked hard with the limousine industry to ensure vehicles were safe.
"The hard core few who insist on operating illegally and with little regard for passenger safety can expect to lose their vehicles indefinitely," he added.
"Vosa will use the new powers to help ensure passenger transport is safe."
The owner now has the right to appeal the detention of his vehicle.
If after this period has elapsed it is not returned by the traffic commissioner, police said it would be disposed of.