Ministers in Wales secure right-to-buy powers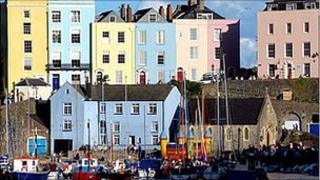 Ministers in Wales are to be able to suspend the right to buy council houses in areas of chronic housing shortages.
It is part of housing powers being devolved from Westminster to Wales.
The legislative competence order (LCO), which was rubber stamped on Wednesday, will allow the Welsh Assembly to legislate on a range of housing issues.
It said suspending right-to-buy would only be used in extreme cases, but there is some support for the move in areas short of affordable housing.
Average house prices in Pembrokeshire's national park are about £200,000, while a report has warned the population could fall by 12% over the next 20 years.
A lack of affordable housing is said to be partly to blame.
Councillor Michael Williams, who represents the seaside resort of Tenby, said: "It is desperate - I come across so many young people who just cannot afford a home."
Pembrokeshire council said there had been a marked decline in interest in right-to-buy in recent years.
No homes have been sold this financial year and just four last year - but go back five years and 75 were sold.
Council leader John Davies said he would welcome any decision to end right-to-buy, which he said had "outlived its usefulness".
"Over the last 20 years we have seen a haemorrhaging of affordable local housing as a result of right-to-buy and unfortunately these sales have not been complemented by replacement new housing," he added.
"One of the problems of the current legislation is that local authorities have not been able to recover the receipts of council house sales to plough back into affordable housing.
"Even though in recent years we have seen very few council house sales due to changes in discounting procedures, we still feel legislation needs to be changed."
Mr Williams, who is chairman of the Pembrokeshire Coast National Park Authority's development control committee, said as far as right-to-buy was concerned, "the horse had already bolted".
He said the biggest issue was the number of second homes in the area - with many only occupied for one or two months a year.
"There are so few people living and working here the whole fabric of the area - economically, socially and culturally - has been damaged," he added.
"If you walk around Tenby in the winter months then 40 to 50% of the homes have no sign of life."
He wants to see legislation forcing people to apply for planning permission if they want to buy a house as a second home, and has even suggested local authorities could compulsorily purchase second homes.
"I know it seems radical but it's got that bad," he added.
In the face of concerns by some Conservative AMs and MPs, ministers have pledged to only use the right-to-buy powers in exceptional circumstances.
Deputy Minister for Housing and Regeneration, Jocelyn Davies, said the powers were good news for housing organisations and communities across Wales.
She said it would enable the assembly to develop measures to improve the regulation of social landlords, secure greater homelessness provision and bring empty homes back into use.
"It is right that these decisions should be taken in Wales for the people of Wales," she added.
John Puzey, director of housing charity Shelter Cymru, said it was "great news".
"At least now we have the reassurance that the Welsh government has greater scope and flexibility to act to protect vulnerable people."