Building name honour for Pendine racer Parry Thomas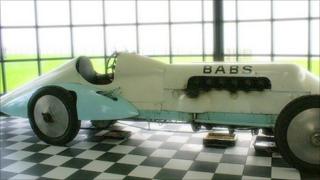 Nowadays getting your hands on a 450bhp car, capable of 170mph, would require little more than £10,000 and an afternoon studying re-runs of Top Gear.
But 83 years ago, achieving this feat cost Wales' most audacious engineer and racing driver his life.
Now his pioneering endeavour and motoring legacy are to be commemorated with a building named after him at Pembrey race track near Llanelli.
On 3 March 1927 John Godfrey Parry Thomas, a vicar's son from Wrexham, was killed on Pendine Sands in Carmarthenshire, attempting to regain the world land speed record he had set there the previous year.
His car Babs was custom-made and chain-driven, fitted with a 27-litre aeroplane engine.
The bonnet to house this was so large that Parry Thomas was forced to lean out of the car to his right, to see where he was driving.
On his final timed run, at more than 170mph, the right-hand drive-chain snapped, striking his head and killing him instantly.
While Parry Thomas was laid to rest in Byfleet, Surrey, Babs was buried at the crash site.
The car remained there until 1969 when it was excavated and restored by another north Wales racing engineer, Owen Wyn Owen.
It now spends its summers in the Pendine Museum of Speed, and winters in Swansea's National Waterfront Museum.
Gavin Evans, curator for Carmarthenshire Museums, said: "I think her days of going 170mph are behind her, but now and again in the summer you can see her actually running up and down Pendine Sands again, which is really incredible after all this time.
"At the time it was quite a controversial move to dig her out, lots of people felt as though she should have been left in peace, out of respect for John Parry Thomas.
"But now she's running again in her former splendour, I think it's a perfect tribute to a real pioneer and Welsh hero."
Chitty Bang Bangs
Both Parry Thomas and Babs have left legacies which are in everyday view.
As well as holding the world land speed record and winning 38 Brooklands races in five years, Parry Thomas was a founder engineer at the Leyland Motor Company, which went on, through a series of mergers to become British Leyland, and later the Rover Group.
Although heavily modified by Parry Thomas, Babs was originally the fourth in a line of racing cars built by Count Louis Zborowski.
And the name for this series was...The Chitty Bang Bangs!
As Pembrey racing circuit celebrates its 20th anniversary, John Parry Thomas is to be remembered at this weekend's vintage sports car grand prix.
Babs has been moved temporarily from The Pendine Museum of Speed, for the naming of the media centre as the Parry Thomas Building.
Pembrey director Phil Davies said: "Wales has a rich automotive and motorsport heritage of which we should be proud.
"We have already commemorated one Welsh great by instigating a Tom Pryce Trophy and, given our location so close to Pendine it seems appropriate to remember another Welsh hero."