Fishguard rowers rescue trapped harbour dolphins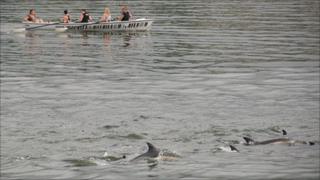 A team of rowers has driven a pod of dolphins out of a harbour after they became trapped.
Experts were worried for the safety of the mammals after they swam into Fishguard disorientated and confused.
The town's women's long boat team came into view and with a few manoeuvres was able to herd them back out to sea.
Cliff Benson of the Sea Trust charity said without their help it was likely the common dolphins - rarely seen inshore - would have become stranded.
Mr Benson said he was called to the harbour on Tuesday due to reports there were a lot of dolphins splashing about.
Although bottlenose dolphins are often seen in the area they turned out to be common ones.
"Quite a crowd had gathered and the dolphins were within a few yards of the shore just muddling about in circles," he explained.
"They seemed a disorientated and confused but I thought they would go back out as the tide turned."
But he said three hours went by and as the sea level dropped he feared they were in danger of becoming stranded.
It was then the Fishguard Ladies Longboat team rowed into view.
"I called them over to help and asked them if they would try and drive the dolphins out to deeper water," added Mr Benson.
Panicked inshore
"Several boats were moored between the dolphins and the safer deep water which seemed to act as a barrier.
"By rowing hard, and manoeuvring between the dolphins and the shore, the ladies would get them moving in the right direction only for the dolphins to turn back."
A Sea Trust volunteer with a motor yacht joined in and between them they herded the animals to safety.
"It was exhausting work for the girls but eventually they managed to shepherd the dolphins through the boats and out into deeper water," said Mr Benson.
"Apparently there had been a lot of mackerel around which would have attracted them inshore," added Mr Benson.
"There were also some witnesses who thought they saw larger more aggressive bottlenose dolphins around, which may have panicked the commons and driven them into the shallow water."