'Concern' as Milford Haven refinery put up for sale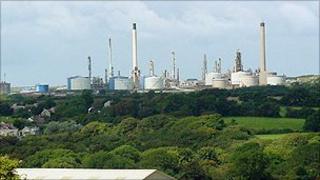 The owners of an oil refinery which employs 370 people say it is being put up for sale.
American based Murphy Oil, which owns the Murco plant in Milford Haven, said it was leaving the refining business.
It will also sell its plants in Wisconsin and Louisiana and its UK petrol station network.
It is the second refinery in Pembrokeshire to go on the market this year and the county council said it was "obviously of great concern".
The refinery has been a major employer at the port since it opened in 1973.
It has been solely owned by Murco, a subsidiary of the Murphy Oil Corporation, since 2007.
In a statement Murphy Oil said that its board of directors had approved plans for exiting the company's refining businesses.
It said it anticipates a transaction being completed in the first quarter of 2011.
Pembrokeshire council's deputy leader John Allen-Mirehouse said: "This is a turbulent time for oil refining and the industry in Pembrokeshire is not exempt from these pressures.
"Obviously the announcement today by the Murphy Oil Corporation is of great concern to the authority, but it is worth noting that of the nine oil refineries in the United Kingdom, six of them are currently for sale.
"If all the refineries in the UK were to close, the national UK government would have a major strategic problem over the security of the country's oil supplies.
"We will of course be seeking talks with Murco management to seek further details over their proposals for the plant."
The refinery can process over 5m tonnes of crude oil every year.
In addition to petrol and diesel, it produces propane and butane, typically used for cooking and heating, kerosene for aircraft fuel and fuel oil for ships and industry.
In March Chevron said it was looking for a buyer for its refinery in Pembrokeshire which employs around 1,400 people.
The US-based company said it wanted to gauge interest in the Pembroke site but said it would not close down.