Assembly ministers to rule on Stradey Park homes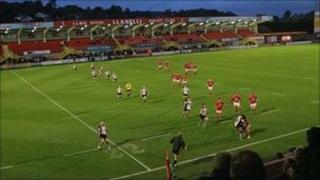 A developer aiming to build 355 homes on Stradey Park claims the assembly government has "stalled" housing and job opportunities in Llanelli.
Ministers have called in an application by Taylor Wimpey for the properties on the derelict rugby ground.
There is outline planning consent for the development but concerns have been raised over potential flooding.
The assembly government said it would decide as soon as possible how and when it would come to a decision.
The Scarlets regional rugby side sold the site to help pay for its new Parc-y-Scarlets stadium on the other side of the Carmarthenshire town.
Plans to build new homes there have been opposed by some locals since they were first announced.
Following a week long public inquiry, outline planning consent was granted for up to 450 homes in 2007.
Taylor Wimpey submitted a detailed application for 355 homes which usually would have been determined by county councillors in Carmarthenshire.
The assembly government has announced due to flooding concerns ministers would now look at the plans.
This may be done through written responses, an informal hearing or another inquiry open to the public.
Keith Simmons, managing director for Taylor Wimpey South Wales, said the company was disappointed.
He said the issue of flooding has been "satisfactorily addressed" at the initial outline planning stage and revisited when the detailed plans were drawn-up.
"It is also disappointing that much needed housing and employment opportunities for Llanelli have been stalled to the detriment of local people and businesses," he added.