Swansea's boulevard plans before council cabinet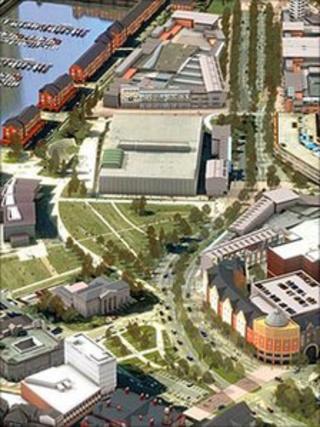 Plans to cut traffic congestion at one of the main gateways to Swansea are going before councillors.
They are part of a £17.5m scheme to create a 'continental-style boulevard' close to the maritime quarter.
The aim is to improve the flow of traffic along Quay Parade, Victoria Road and Oystermouth Road, council leader Chris Holley said.
The cabinet will also discuss plans to revamp the Lower Oxford Street retail area and foreshore cycle path.
Plans to improve the dual carriageway running from the River Tawe to the leisure centre (LC) have been on the drawing board for several years.
The cabinet is being asked to include the scheme, which could start by the end of the year, in the council's works programme.
Mr Holley said it would also improve pedestrian links between the city and centre and marina.
"The journey from the Tawe bridges to the LC and beyond is a frustrating one for motorists coming in and out of Swansea," he said.
"This scheme will lead to smoother traffic flow because access and exit points onto the main road will be changed and traffic light sequencing will be altered to allow a more pleasant travelling experience.
"Oystermouth Road is also currently a barrier between the city centre and areas such as SA1 and the maritime quarter but this scheme will introduce safe crossing points at key locations to make it far easier and safer for people to cycle or walk from the shops to the waterfront."
Funding has been secured from the Welsh Assembly Government.
At the same meeting the cabinet will be asked support a £2.2m revamp of the Lower Oxford retail area including Singleton Street, Dilwyn Street, Westway and Plymouth Street.
The money would be spent on reducing and slowing traffic as well as new street furniture and signage.
New surfacing, lighting, railings and street furniture form plans to improve the foreshore cycle path between the civic centre and former observatory in the marina.