Concern at increase in drug seizures in Llanelli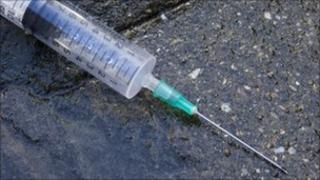 The number of drug seizures in Llanelli has increased substantially over the past three years, according to figures obtained by the local assembly member.
Some 473 seizures, including 51 of heroin, were made by Dyfed-Powys Police in 2009/10 compared to 287 in 2007/08.
Llanelli AM Helen Mary Jones said the figures were "very disturbing", but added the increase could be because of more effective policing.
A drugs charity in Llanelli said the problem was no worse than elsewhere.
Ms Jones, who expressed "deep concern" over the increase, said: "At one level, it's very disturbing to see that the number of drug seizures has gone up so much in the last three years.
"We all know that we have a serious drug problem in our town, and it's important that the people trapped in drug use have the help and support they need, as well as it being important that the police enforce the law.
"Of course, what these figures may show is rather than an increase in use of drugs, more effective policing of the problem, and in that case, this is very much welcomed."
She added that the drug figures should be put in context because it was still true that "a lot more anti-social behaviour in our area is caused by the misuse of alcohol, rather than the misuse of illegal drugs".
Former drug addict Alan Andrews, director of the Carmarthenshire-based Choose Life Cymru drug and alcohol intervention service, said: "It's worse than some towns, it's better than a lot of towns.
"Drugs are here and they're here to stay. There's not a village or town safe from them these days.
"It only takes one person to have brought a certain drug into a village and that village has a small cannabis problem.
"It's the same with other drugs. There are people out there taking drugs like heroin."
The figures obtained by Ms Jones through a Freedom of Information request to Dyfed-Powys Police showed the number of heroin seizures in 2009/10 had increased compared to 2008/09, but were slightly down on 2007/08.
Three crack seizures were made in 2009/10, while none were recorded in the previous two years, and cannabis seizures had increased from 179 in 2007/08 to 292 in 2009/10.
Mr Andrews said he believed that a lot of the 51 seizures of heroin in 2009/10 would probably be small amounts of the drug.
"Although the amount of drugs being found has increased, it wouldn't have decreased the market in any way," he said.
He added: "Police are doing a good job but it's a needle in a haystack."
Mr Andrews said helping an individual beat drugs was a long-term challenge that took several years.
"There are a lot of services there but they need to be ready to act faster than in the past - but they are improving," he said.
The officer in charge of policing in Carmarthenshire said the fight to reduce the harm caused by drug abuse continued to be a "top priority".
Ch Supt Steven Mears said: "The number of drug seizures are directly linked to the amount of proactive work we do in respect of the harm caused by drugs, and they actually represent the increasing efforts we've made in targeting drug dealers.
"We've increased those efforts because we've been listening to the community, which lists drugs as being one of their major concerns. As such, it is an ongoing priority for our policing teams in Llanelli.
"Secondly, everyone knows the police service faces some tough times ahead as we address the shortfalls to our funding. But continuing to reduce the harm caused by drugs is still a priority for us in Llanelli and Carmarthenshire."