New image in search for teenager missing since 2002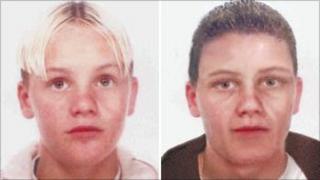 Police have released an "age progression" image of what a 15-year-old boy who went missing eight years ago might look like now.
Robert Williams went missing from his home in Resolven, near Neath, in March 2002, but officers have been unable to find him.
Detectives are carrying out inquiries following a review of missing people in the South Wales Police area.
Robert's mother is "still deeply anxious" to find her son, police said.
Det Insp Mark Lewis, of the force's major crime investigation team, said all outstanding missing person cases remained open and were revisited periodically.
He told BBC Radio Wales: "We have carried out 'proof of life' enquiries throughout the UK and still carry out those enquiries.
"At the moment they have been unsuccessful in tracing Robert, although we remain determined to try and find him."
He said the the team would "assess, revisit and evaluate all information gathered up until now", as well as identifying any potential new lines of inquiry.
Det Insp Lewis said the police had a "massive duty of care" and said all unsolved missing persons' enquiries "remained on the radar".
He said: "Our ultimate aim is to find some closure for his family. Cheryl, Robert's mother, is in a bad way at the moment; she's still in the state of mind where she's expecting Robert to come through the door at any moment."
He added: "I would urge anyone with information to contact us."
Anyone with information is asked to contact the South Wales Police incident room on 01639 889103 or Crimestoppers anonymously on 0800 555111.