Friends aim to take over Theatr Gwaun in Fishguard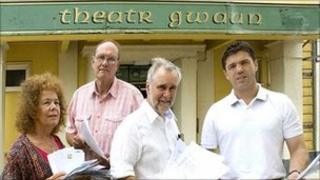 Volunteers are hoping to take on the running of a cinema and theatre in Fishguard to keep it open.
Pembrokeshire council, which subsidises Theatr Gwaun, says attendances are so low, some in single figures, it may close by the end of the year.
Users have put together a business plan in the hope the authority will transfer ownership to them.
Pembrokeshire council said it was happy to discuss any "viable business model" for the building's future.
Theatr Gwaun was originally built as a temperance hall but has been a cinema since the 1920s.
Originally known as The Studio it was extensively refurbished and renamed in the 1990s.
It consists of a 180-seat cinema and a small theatre stage but The Friends of Theatr Gwaun (FOTG) claim not enough is done to publicise events and grow the audience.
They have now drawn up a plan which they say shows it could be run sustainably.
The management of the theatre would be separated into two functions - the promotion and programming of events run by FOTG and the management of the building itself run by a charity.
Spokesman Derek Webb said even in its present state the group believes the theatre could attract a wider audience with "imaginative programming" and a "more flexible approach, including the use of volunteers."
"As a group we simply want to be given the opportunity to prove that there is a sustainable future for the theatre," he added.
"There's some great stuff on, but if the the public don't know, they won't come."
Mr Webb said there was widespread support from the public, business and politicians including local MP Stephen Crabb.
'Strenuous efforts'
Pembrokeshire council said the annual budget for the theatre was set in January but due to lower than expected business, funding could run out in December.
"The funding was sufficient to provide for the running of the theatre for the full financial year provided it generated income at a reasonable level," said a spokesman.
"However this does not appear to be happening and at the present moment, if the trend continues, it is difficult to see how the theatre can continue to operate after the end of this year.
"It is a fact that over the past few years, the council taxpayers of Pembrokeshire have had to subsidise the cost of running a theatre in Fishguard.
"Despite strenuous efforts to provide programmes of interest, visitor levels remain small in number.
"The council is happy to discuss with the Friends of Theatr Gwaun any proposals they may have for a viable business model."